Electricity Markets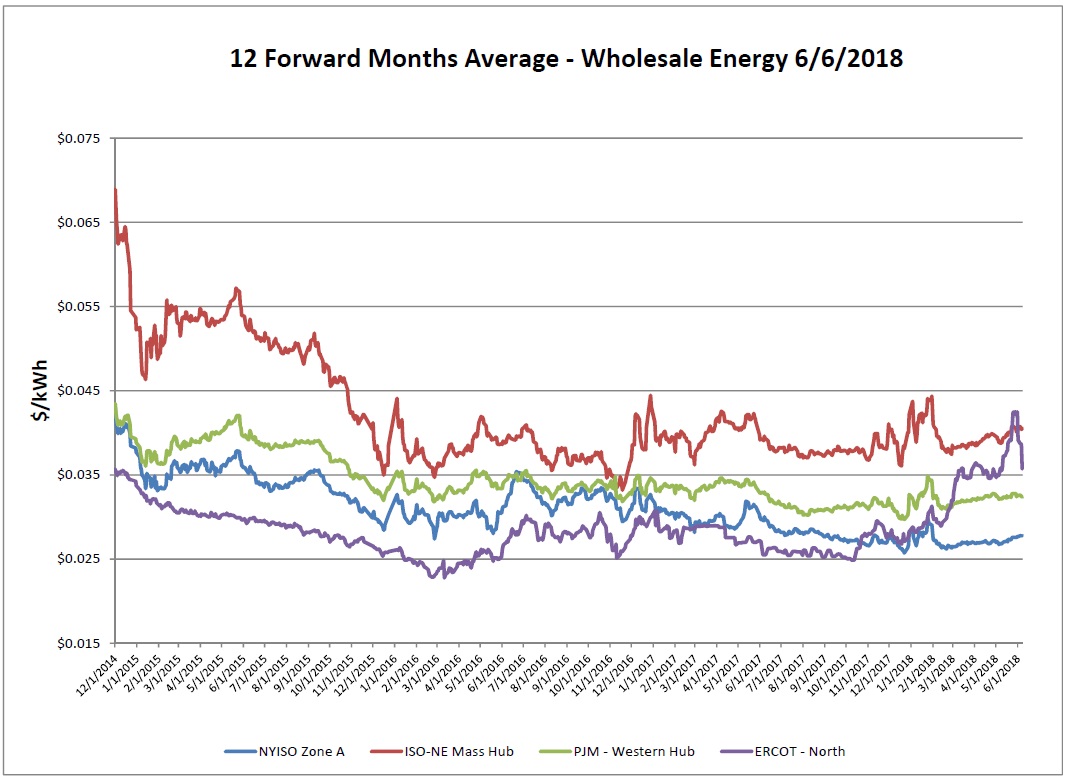 ISO-NE continues to see a slight upward trend, however overall the summer months are usually a quieter time in this region. ERCOT prices came down over the week but remains volatile. With the Texas economy doing well, this has led to load growth. In 2011 a similar pattern arose when the area was tight on capacity and a big spike occurred.
DOE has been in discussion about what role does nuclear and coal play in grid resiliency. Destabilization in the NY markets is possible as the future of nuclear power plants and closures are uncertain. What subsidies should be given, how will subsidies alter the supply and demand economics, how is this impacting the current market and how to get an accurate price?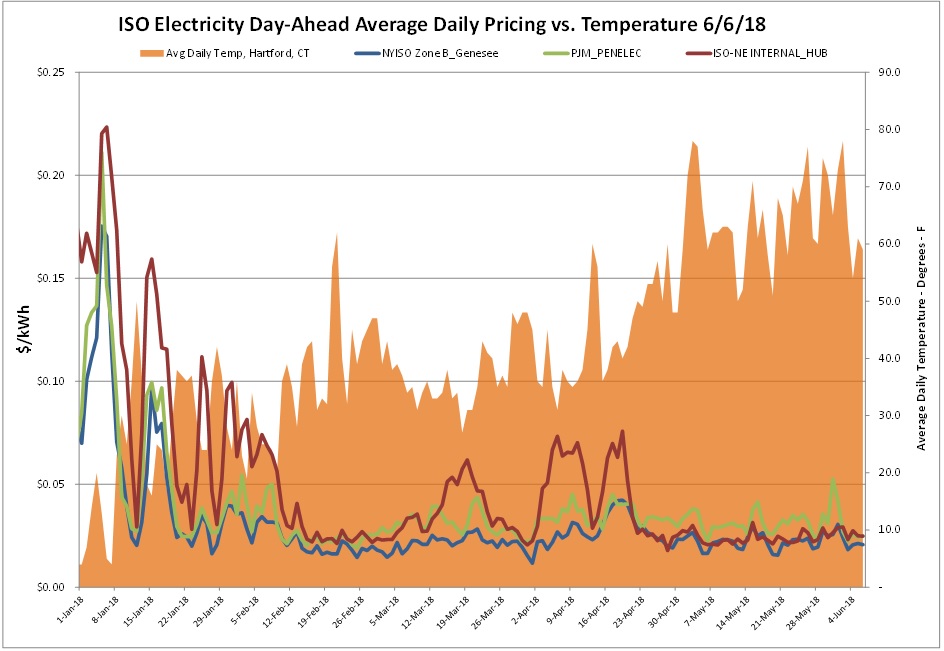 Cooler temperatures over the report week translated into a quiet day-ahead market. PJM was the only one that saw some movement.
Natural Gas Markets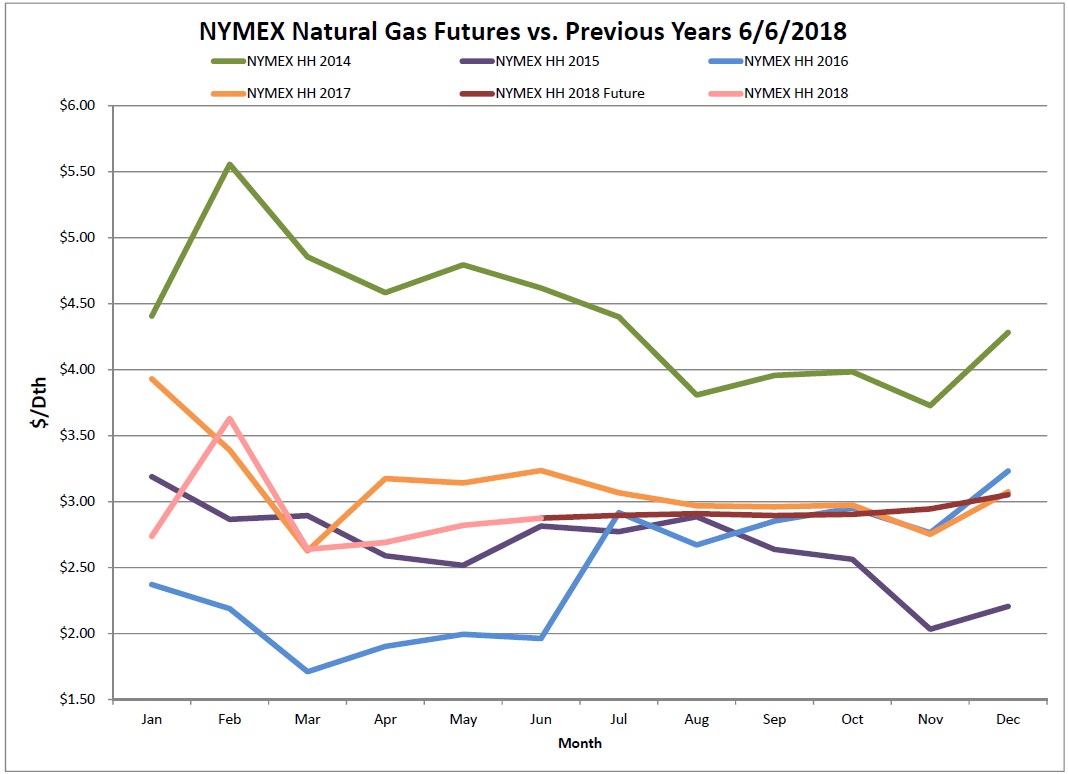 Natural gas futures were up just slightly on the report week. The tight distribution right below $3.00 market remains in place. Much of the focus this summer is centered around the current storage deficit and production gains needed to bring storage levels back to the 5-year benchmark. Currently, the market doesn't seem to be panicked about low inventory levels, likely offset by high production.
Six-Month Natural Gas Futures
Futures as of 6/6/18 versus previous week:
| | | |
| --- | --- | --- |
| Jul-18 | $2.896 | +0.011 |
| Aug-18 | $2.909 | +0.004 |
| Sep-18 | $2.895 | +0.004 |
| Oct-18 | $2.904 | +0.007 |
| Nov-18 | $2.945 | +0.008 |
| Dec-18 | $3.052 | +0.014 |
                                                                                 
Natural Gas Inventory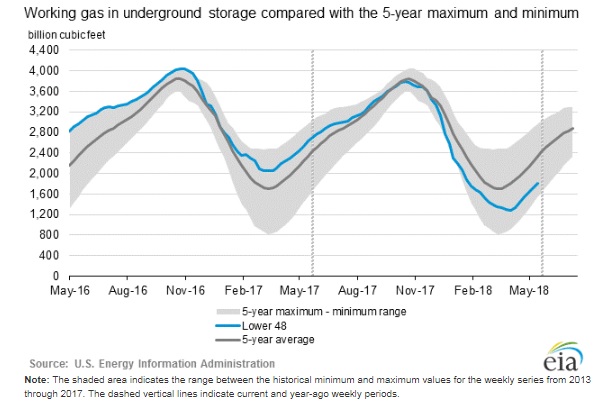 As of Friday, June 1, 2018, working gas in storage was 1,817 Bcf. This represents a net increase of 92 Bcf from the previous week. Inventory is currently 30% below last year and 22% below the 5-year average. Increases in production facilitated by pipeline expansion are expected to help address the shortfall. The amount of gas available to be injected will depend on weather, power burn demand, as well as net import/exports.
NG Rig Count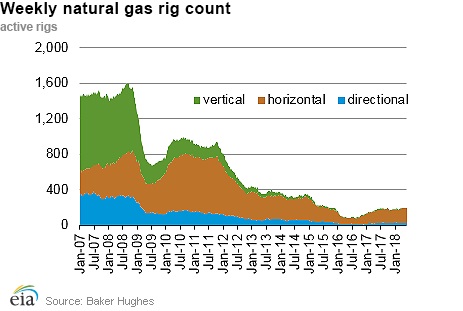 The Baker Hughes exploration gas rig count increased 1 rig from the previous week for a total of 198 rigs. The report total is 13 rigs more than in operation last year when there were 185 rigs.
Weather Update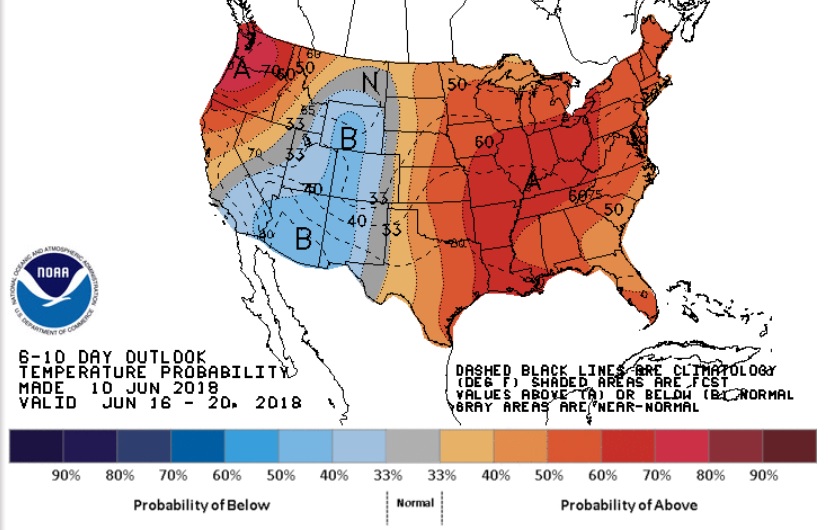 Temperatures across the country are varied on the NOAA 6-10 day forecast, with above-normal temperatures dominating the Eastern half of the county and below normal temperatures creeping up from Arizona to Wyoming.
National Weather Service Updates (NOAA)
Hurricane Watch- Hurricane Bud
Click here to view the National Hurricane Center site.
Equatorial Pacific Outlook:
Click here to view La Nina and El Nino status.
Energy News & Resources
Footprint now generating electricity for the grid
New England Bets Big on Offshore Wind Power
New England now has bet big on offshore wind power, with two states moving on May 23 to site three turbine complexes that will generate a total of some 1,200 MW of power, and investing heavily in onshore facilities to build an Atlantic coast construction hub and supply chain.
Hydro Power Not Green Enough for New Hampshire As Regulators Reject Northern Pass Proposal
New England wants to go green, but, in the case of New Hampshire, only as long as doing so doesn't effect the view or make too much noise.
If you would like to receive the Energy Market Update to your inbox weekly, please click here to submit your name and email address.
Disclaimer: This information is provided for the use of our customers and potential customers. Power Management Company assumes no responsibility or liability for the accuracy or completeness of pricing or information in this document. Historical data was obtained from sources that we believe to be reliable, but we do not guarantee its accuracy or completeness. It is not intended to provide advice or recommendation. Views are subject to change without notice