Electricity Markets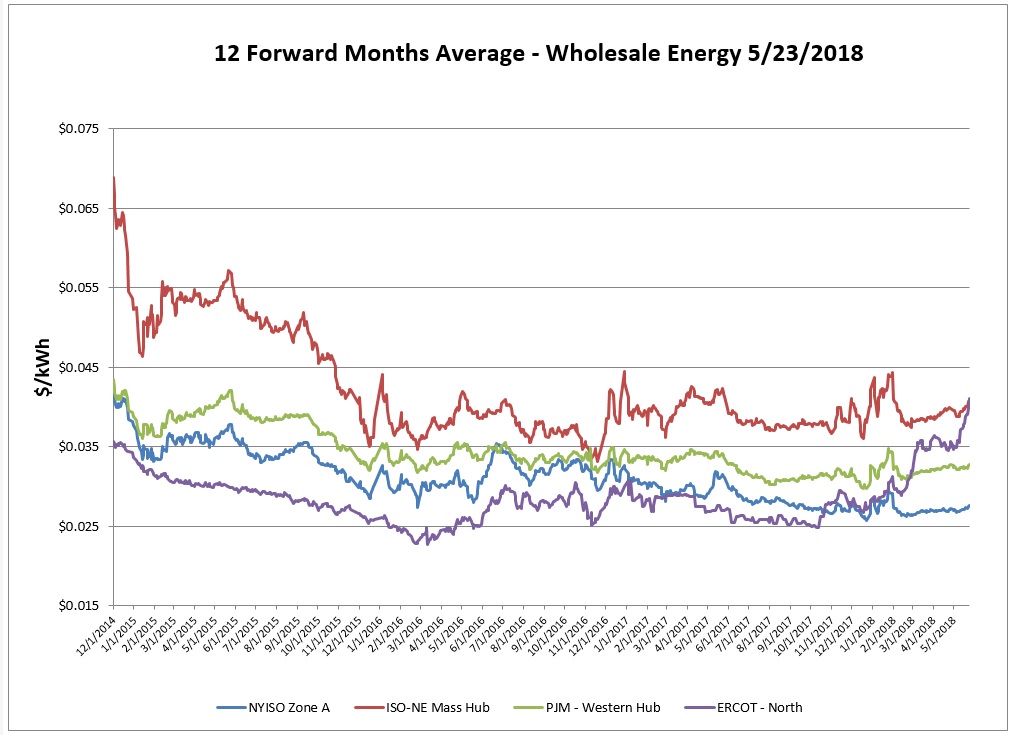 There was an uptick in forward electric prices across the board. ISO-NE has been on a steady march upward over the last few weeks. ERCOT again saw another big jump as warm weather and continued uncertainty about how the coal plant closures could be even more dramatic if there is a warm summer in Texas. It's important to keep in mind that with the closures of Indian Point and Pilgrim plants, there is the potential that something similar could happen in the Northeast. With prices still relatively low in the markets currently, it's a good time to look into hedging against the unknown.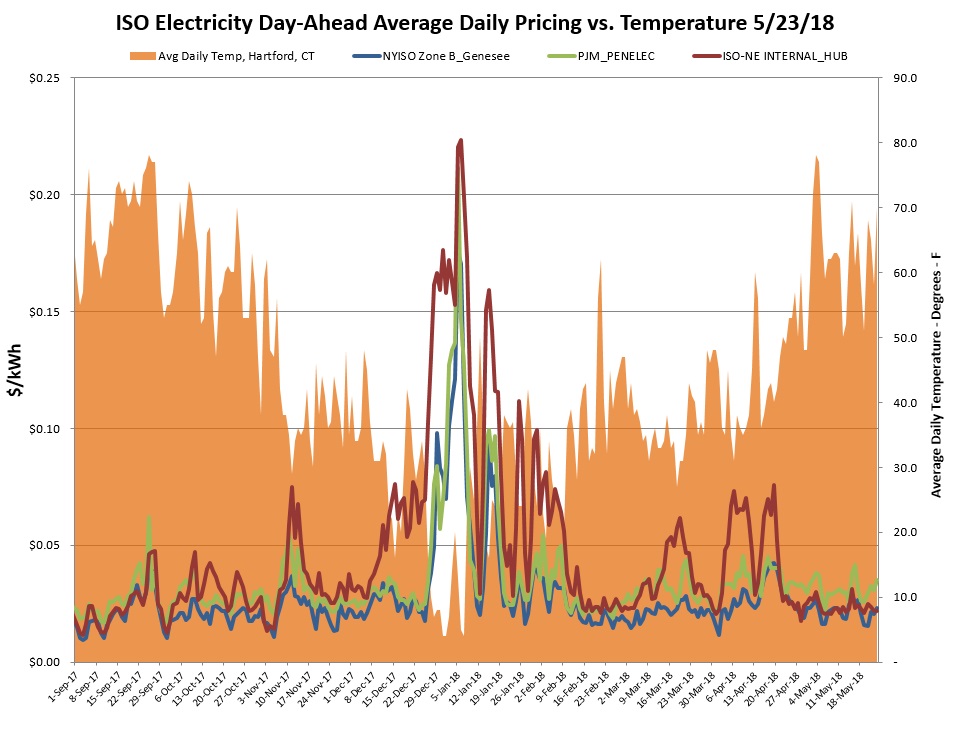 PJM continued to see some volatility on the spot market as warm weather influences prices. The remaining ISO's were fairly quiet.
Natural Gas Markets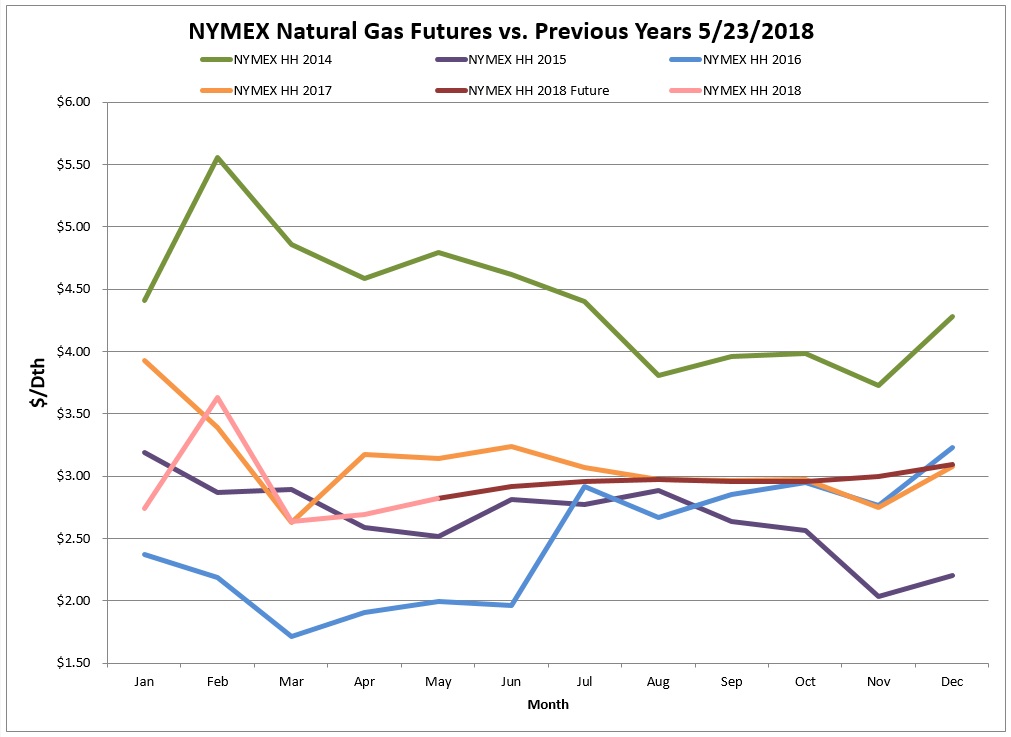 NYMEX prices rose this report week and continued its march towards $3.00. The trend is certainly stating to move into the higher end of the normal/historical levels relative to the last few years. The 12-month strip climbed 11¢ to $2.955/MMBtu. The prices are correlated, although not directly impacted by, the increase that has been seen in the oil industry. The primary reason for the move higher has been an increase in temperatures across almost all of the country, causing an increase in gas demand for electricity generation.
Six-Month Natural Gas Futures
Futures as of 5/23/18 versus previous week:
| | | |
| --- | --- | --- |
| Jun-18 | $2.914 | +0.099 |
| Jul-18 | $2.955 | +0.118 |
| Aug-18 | $2.973 | +0.123 |
| Sep-18 | $2.956 | +0.124 |
| Oct-18 | $2.960 | +0.123 |
| Nov-18 | $2.998 | +0.121 |

Natural Gas Inventory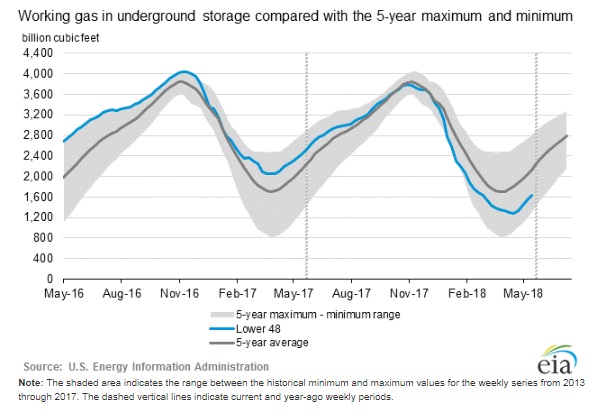 Net injections into storage for the week ending Friday, May 18, 2018, totaled 91 Bcf. This is compared to five-year average of 89 Bcf and last year's net injections of 74 Bcf.  Injections are still on a good, upward trend and top the 5-year average for the third week in a row. Total working gas in storage was 1,629 Bcf according to EIA estimates.
NG Rig Count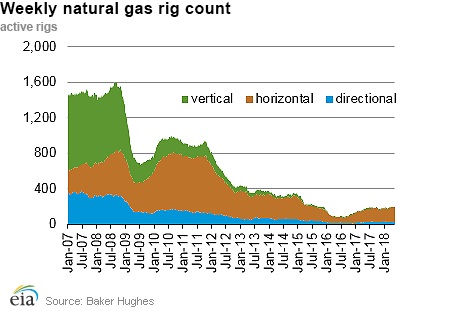 The Baker Hughes exploration gas rig count decreased 2 rigs from the previous week for a total of 198 rigs. The report total is 13 rigs more than in operation last year when there were 185 rigs.
Weather Update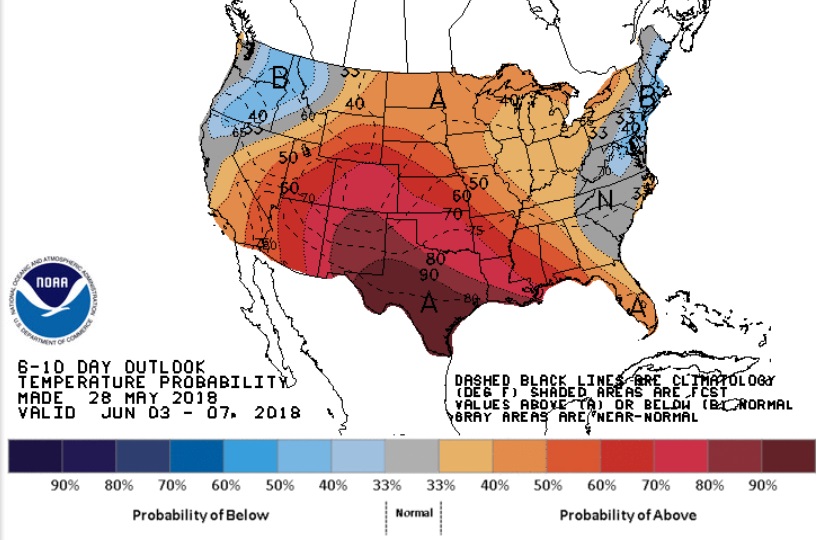 The NOAA 6-10 day outlook is predicting some cooler temperatures along the East and West coasts, while the remainder of the CONUS will see above average temperatures for the beginning of June.
National Weather Service Updates (NOAA)
Hurricane Watch- No Activity:Click here to view the National Hurricane Center site.
Equatorial Pacific Outlook: Click here to view La Nina and El Nino status.
Energy News & Resources
Cold snap tested reliability of region's power grid and arguments against fossil fuels
As Maine and New England shivered through last winter's historic cold spell, the region's electric system faced an unprecedented prospect: rolling blackouts.
Northeast region slated for record natural gas pipeline capacity buildout in 2018
EIA expects construction of new natural gas pipeline capacity in the United States to continue in 2018, in particular in the northeastern United States.
If you would like to receive the Energy Market Update to your inbox weekly, please click here to submit your name and email address.
Disclaimer: This information is provided for the use of our customers and potential customers. Power Management Company assumes no responsibility or liability for the accuracy or completeness of pricing or information in this document. Historical data was obtained from sources that we believe to be reliable, but we do not guarantee its accuracy or completeness. It is not intended to provide advice or recommendation. Views are subject to change without notice