Electricity Markets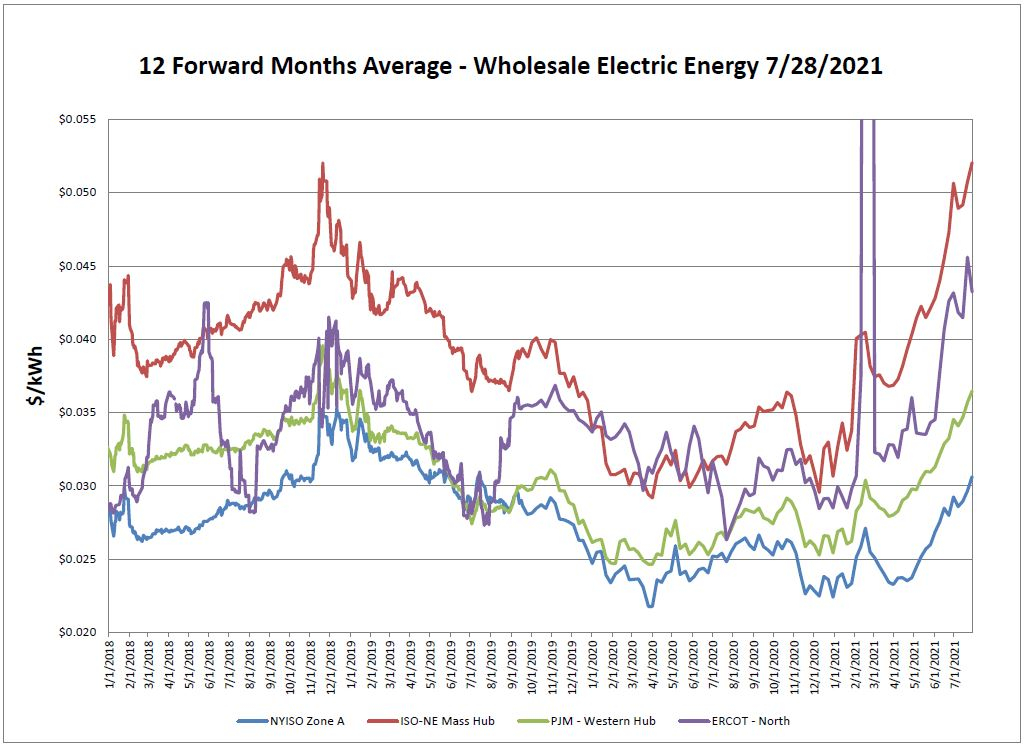 NYISO, ISO-NE and PJM saw an increase in forward pricing as the underlying cost of gas continues to rise. ERCOT has dropped off as we are exiting the month of July, when prices tend to be the highest.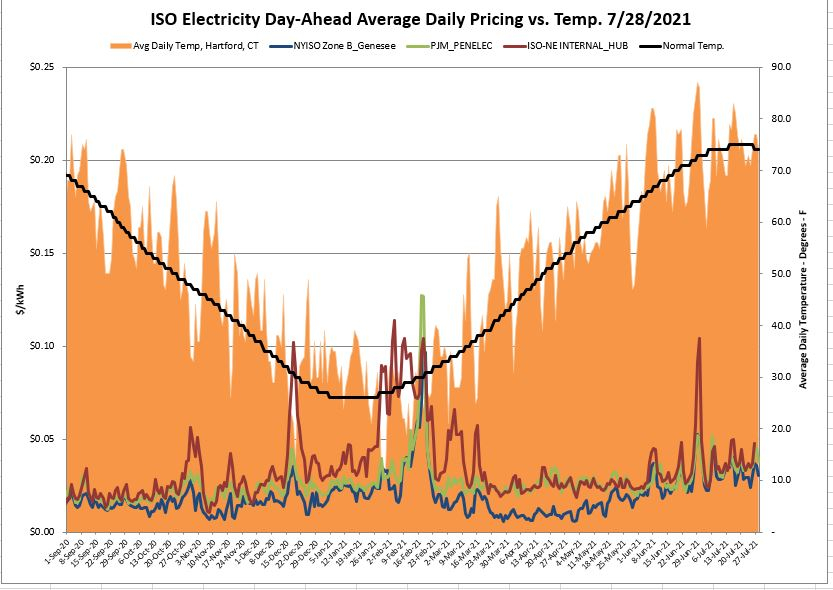 Temperature volatility through the CONUS, coupled with surges in the natural gas market, brought price volatility to the daily electric markets.
Natural Gas Markets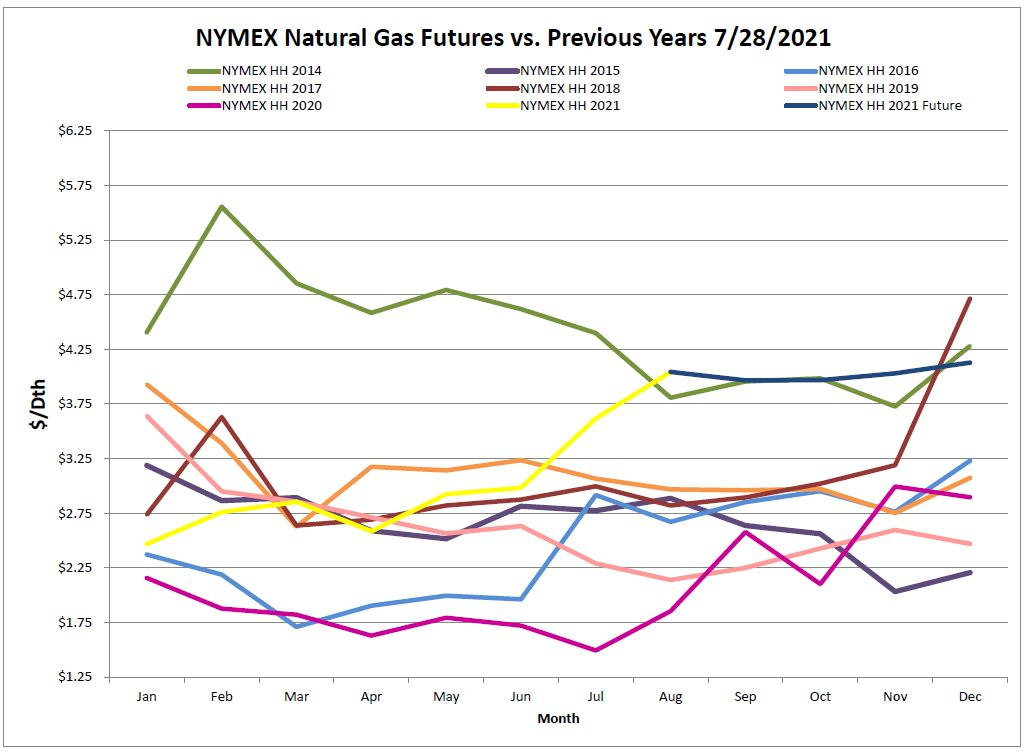 NYMEX settled at $4.044, which is the highest August settle since 2011. The remainder of 2021 remains fairly flat.
.
Futures as of 7/28/2021 versus previous week:
| | | |
| --- | --- | --- |
| Sep-21 | $3.967 | $0.029 |
| Oct-21 | $3.969 | $0.034 |
| Nov-21 | $4.030 | $0.040 |
| Dec-21 | $4.130 | $0.046 |
| Jan-22 | $4.190 | $0.049 |
| Feb-22 | $4.106 | $0.040 |
Natural Gas Inventory
As of Friday, July 23, 2021 working gas in storage was 2,714 Bcf. According to EIA estimates this represents a net increase of 36 Bcf from the previous week.

The Baker Hughes exploration gas count is down 1 from the previous week for a total of 103 rigs. This is 34 more rigs than the 69 in operation at this time one year ago.
Weather Update
The Southeast, through Texas will see cooler than normal temperatures this upcoming week.
National Weather Service Updates (NOAA)
Hurricane Watch: No Hurricanes
Click here to view the National Hurricane Center site.
Equatorial Pacific Outlook:
Click here to view La Nina and El Nino status.
Energy News
Wholesale power prices for this summer likely less than market expects: analysts Despite relatively strong weather-adjusted power demand, wholesale power prices for the remainder of the summer may be weaker than market forwards for much of the US, primarily resulting from gas-to-coal switching and stronger reserve margins, S&P Global Platts Analytics experts said July 21.
$1 Million To Help Towns & Villages Purchase Electric Vehicles Courtesy Of New York Power Authority  The New York Power Authority (NYPA) Board of Trustees yesterday approved $1.1 million in additional funding to help New York's municipal and rural electric cooperative systems bring more hybrid and electric vehicles into their fleets.
If you would like to receive the Energy Market Update to your inbox weekly, please click here to submit your name and email address.
Disclaimer: This information is provided for the use of our customers and potential customers. Power Management Company assumes no responsibility or liability for the accuracy or completeness of pricing or information in this document. Historical data was obtained from sources that we believe to be reliable, but we do not guarantee its accuracy or completeness. It is not intended to provide advice or recommendation. Views are subject to change without notice.