Electricity Markets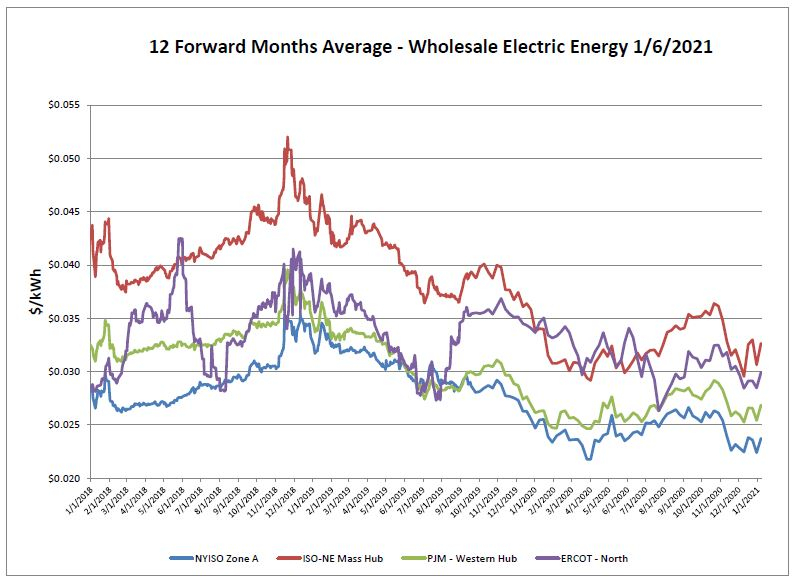 Electric markets ticked up over the report week on the heels of natural gas prices increases. In ISO-NE the REC (renewable energy certificate) component continues to be a large piece of the overall cost of energy and is almost equal to the energy only price.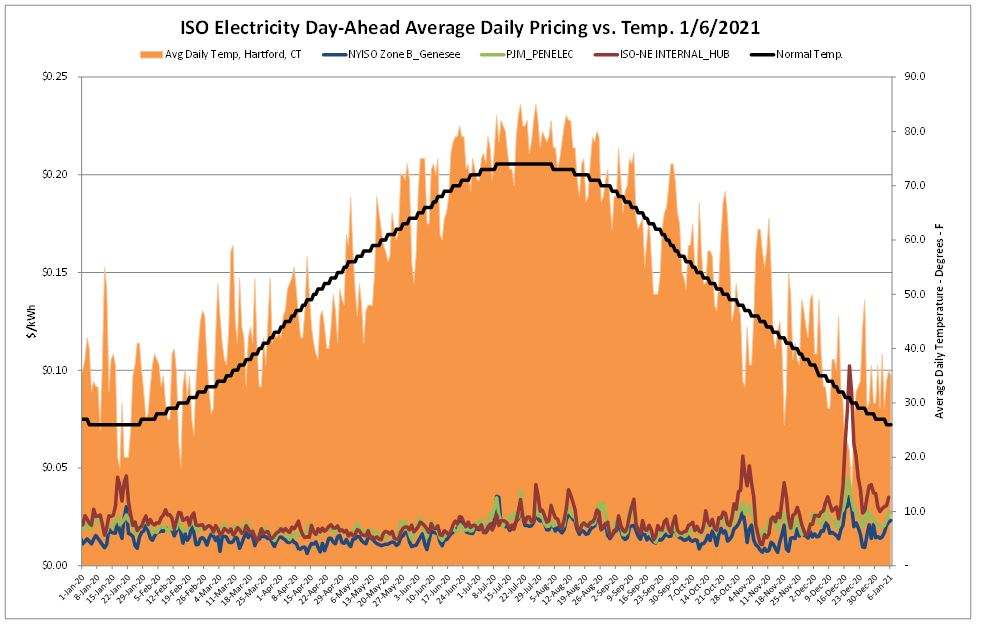 Day-ahead electric prices continued to be somewhat increased although the average temperatures were more within a normal range over the report week.
Natural Gas Markets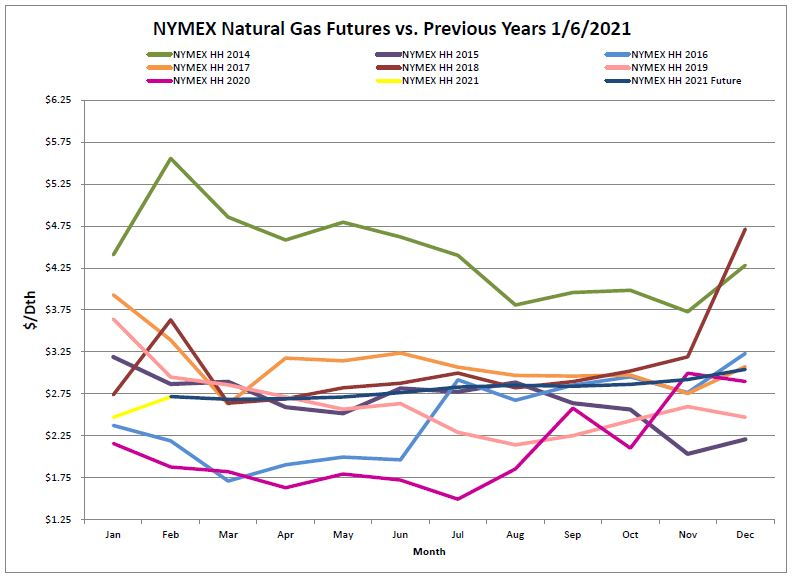 Natural gas storage levels have been dropping faster than normal and may be causing some concern among market forecasters as forward prices have reflected some upward movement. However, there continues to be strength in oil prices as production increases and this is generally positive for keeping gas prices relatively low due to the associated gas that comes from oil production.
Futures as of 1/6/2021 versus previous week:
| | | |
| --- | --- | --- |
| Feb-21 | $2.716 | +$0.177 |
| Mar-21 | $2.684 | +$0.158 |
| Apr-21 | $2.690 | +$0.152 |
| May-21 | $2.711 | +$0.156 |
| Jun-21 | $2.764 | +$0.153 |
| Jul-21 | $2.830 | +$0.145 |
Natural Gas Inventory

The EIA reported a net withdrawal of 130 Bcf from the previous week. Working gas in storage was 3,330 Bcf as of Friday, January 1, 2021.

The Baker Hughes exploration gas count increased 1 rig from the previous week for a total of 84 rigs. This is 35 fewer rigs than the 119 in operation at this time one year ago.
Weather Update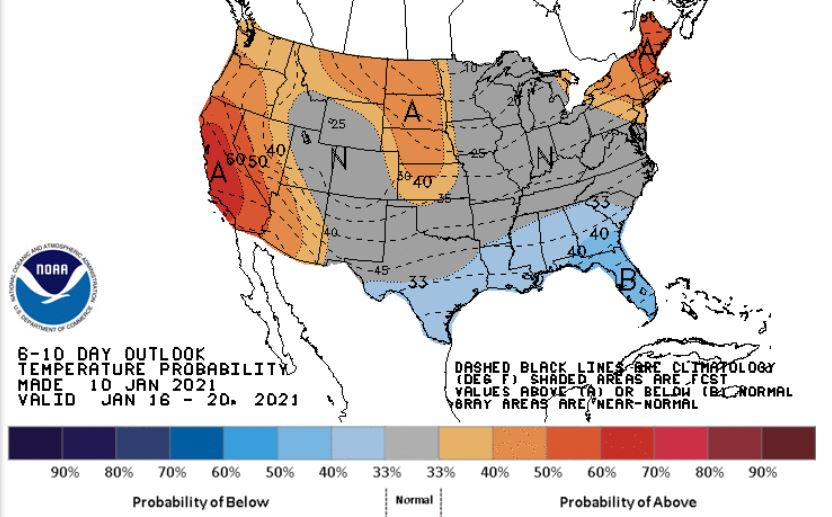 The NOAA 6-10 day weather forecast looks almost identical to last weeks predictions. The West coast and Northeast are expected to see some slightly above normal temperatures while the Southern most states are anticipated to be a bit cooler than average.
National Weather Service Updates (NOAA)
Hurricane Watch: No Hurricanes
Click here to view the National Hurricane Center site.
Equatorial Pacific Outlook:
Click here to view La Nina and El Nino status.
Energy News
News : Polar vortex conditions could form, potentially driving up US power, gas prices
New York — US weather forecasters said there are indications that cold air outbreaks could begin during the third week of January while polar vortex conditions could develop, bringing Arctic air into the Midwest and Northeast, which could increase power and natural gas prices.  
If you would like to receive the Energy Market Update to your inbox weekly, please click here to submit your name and email address.
Disclaimer: This information is provided for the use of our customers and potential customers. Power Management Company assumes no responsibility or liability for the accuracy or completeness of pricing or information in this document. Historical data was obtained from sources that we believe to be reliable, but we do not guarantee its accuracy or completeness. It is not intended to provide advice or recommendation. Views are subject to change without notice.