Electricity Markets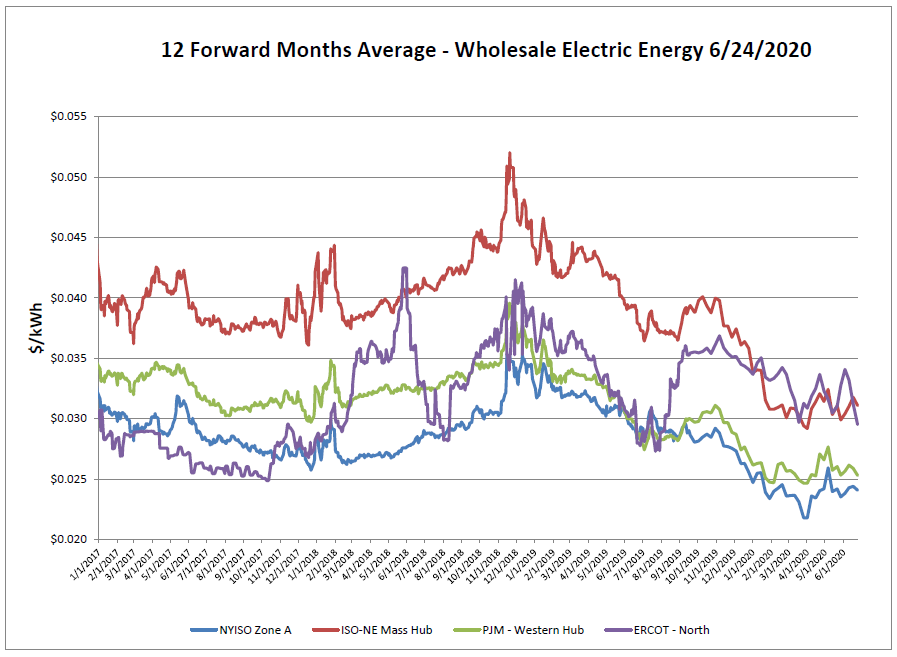 All electric in the near-term markets fell in response to the tumbling underlying cost of natural gas. Winter peaks in ISO-NE dropped as strong storage numbers and prolonged reopening procedures drive down demand concerns.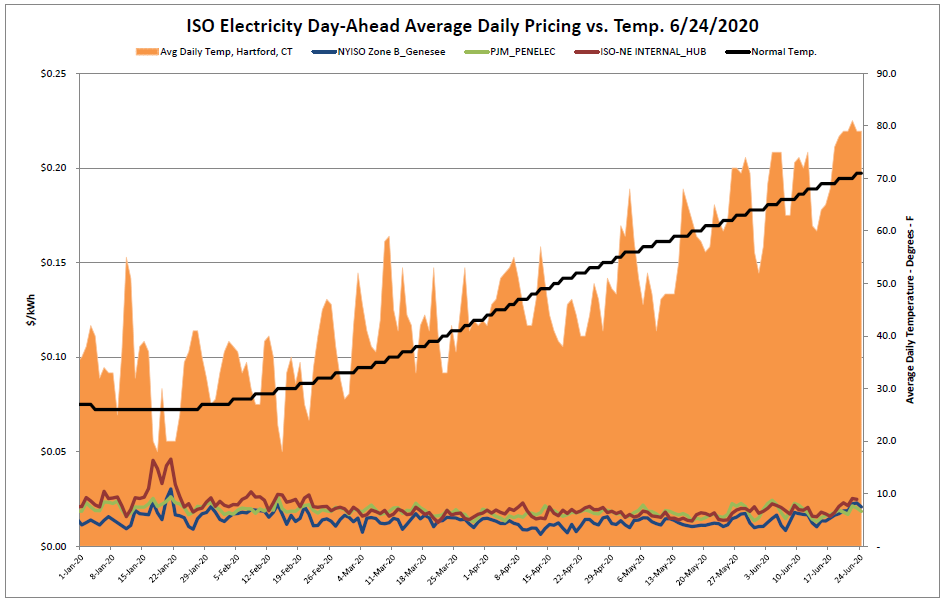 Volatility was noted in the daily markets in response to prolonged above-normal temperatures.
Natural Gas Markets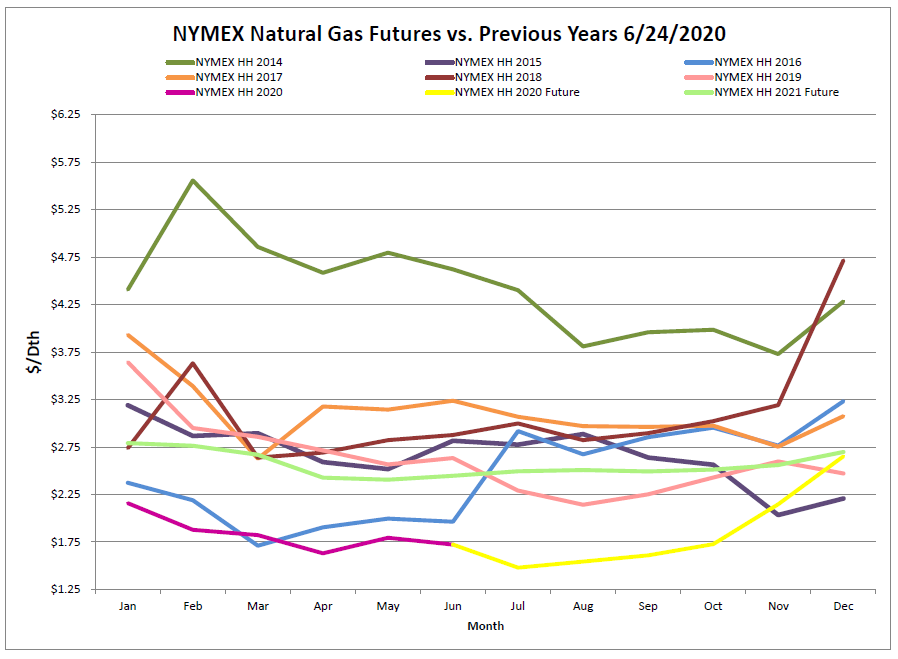 Forward pricing for the remainder of 2020 tumbled over the past week as storage numbers remain strong and strain on the summer system remains minimal.
Futures as of 6/24/2020 versus previous week:
| | | |
| --- | --- | --- |
| Jul-20 | $1.479 | -$0.158 |
| Aug-20 | $1.542 | -$0.183 |
| Sep-20 | $1.609 | -$0.171 |
| Oct-20 | $1.726 | -$0.172 |
| Nov-20 | $2.146 | -$0.161 |
| Dec-20 | $2.651 | -$0.142 |
Natural Gas Inventory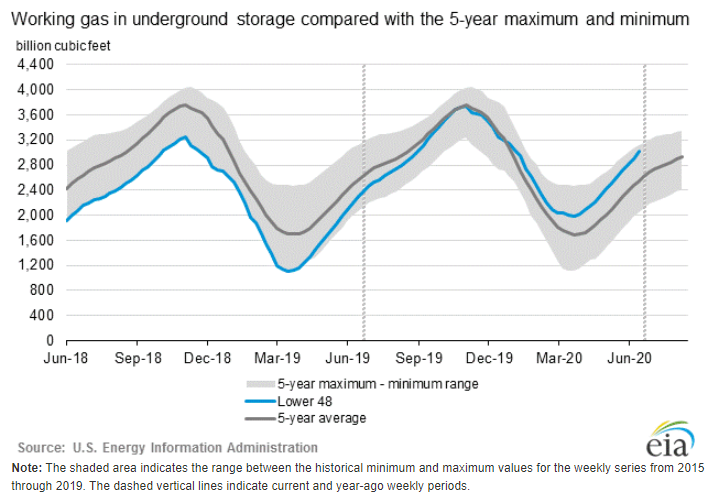 As of Friday, June 19, 2020 working gas in storage was 3,012 Bcf. According to EIA estimates this represents a net increase of 120 Bcf from the previous week. This was well-above the 5-year average of 73 Bcf and current projections place storage above 4,000 Bcf by November.

The Baker Hughes exploration gas count remained the same over the report week for a total of 75. This is 98 fewer rigs than the 173 in operation at this time one year ago.
Weather Update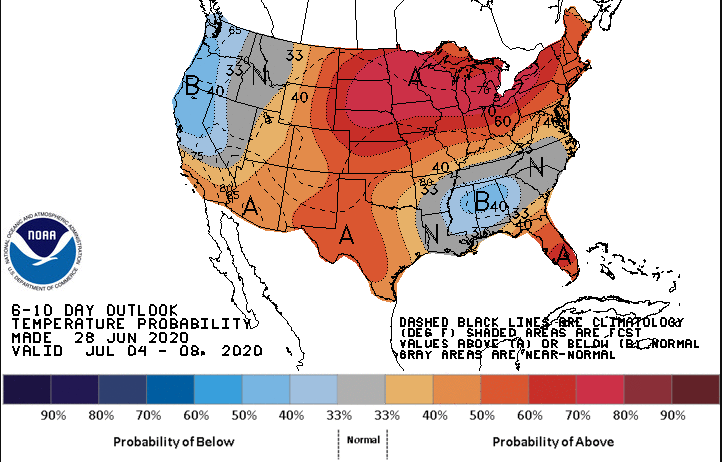 The 6-10 day NOAA outlook is calling for warmer than normal temperatures throughout most of the US with cooler than normal temperatures expected throughout the Pacific Northwest and parts of the Gulf of Mexico.
National Weather Service Updates (NOAA)
Click here
to view the National Hurricane Center site. Equatorial Pacific Outlook:
Click here
to view La Nina and El Nino status.
Energy News
NYSEG and RG&E File Rate Case Settlement with NY Public Service Commission
BINGHAMTON, N.Y.–(BUSINESS WIRE)– NYSEG and RG&E, subsidiaries of AVANGRID, Inc. (NYSE: AGR), today announced that they have filed a proposed rate case settlement with the New York Public Service Commission (NYPSC).
Disclaimer
: This information is provided for the use of our customers and potential customers. Power Management Company assumes no responsibility or liability for the accuracy or completeness of pricing or information in this document. Historical data was obtained from sources that we believe to be reliable, but we do not guarantee its accuracy or completeness. It is not intended to provide advice or recommendation. Views are subject to change without notice.