Electricity Markets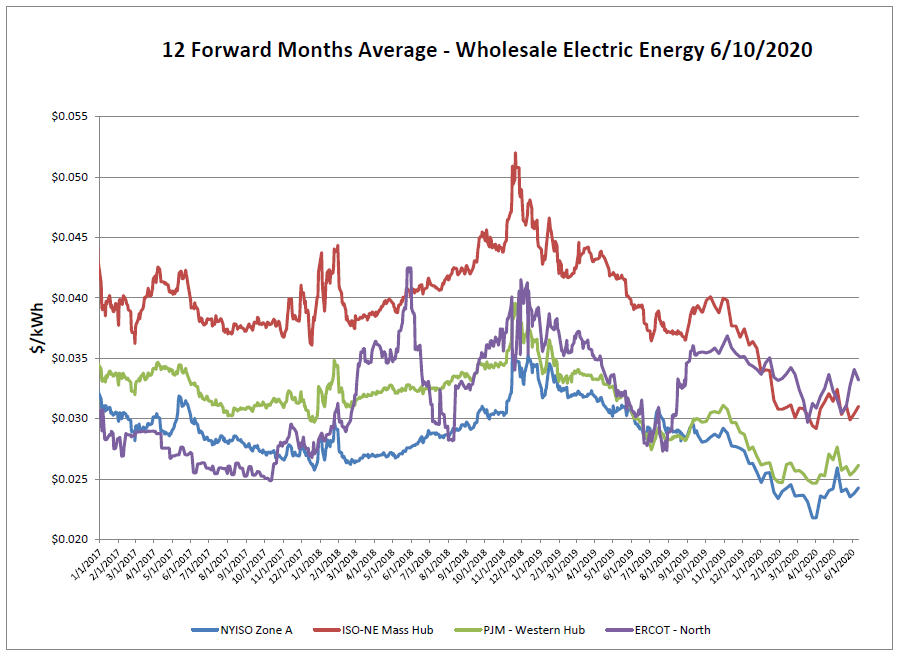 All ISOs, with the exception of ERCOT, saw a week-over-week gain. ISO-NE experienced its largest jump in the near-term; long-term pricing remains a very good value across all regions. NYISO movement may be related to the recent shutdown of the first of Indian Point Nuclear Power Plant's two generators.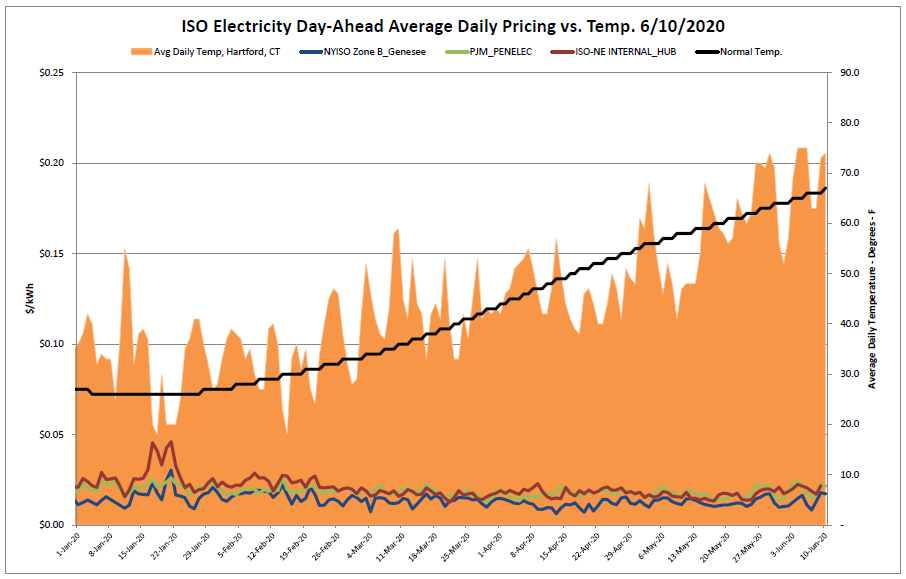 Daily pricing rose in response to fluctuating temperatures and increases in loads on the electric system as regions progress through their reopening procedures.
Natural Gas Markets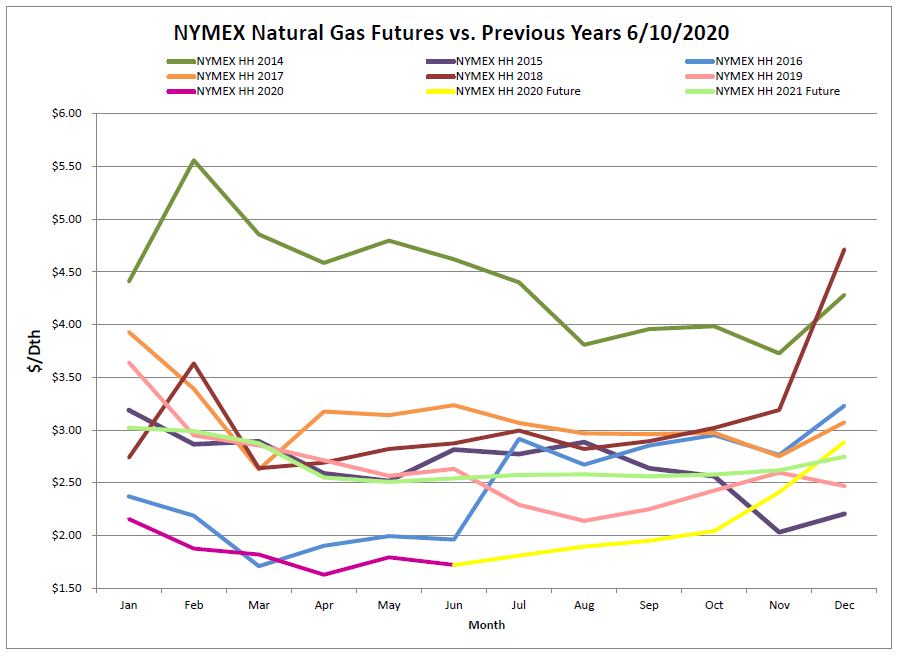 There was a slight increase in natural gas pricing, but the market has yet to experience any dramatic rise. At similar lows in 2016, a steep jump occurred between the June and July settlements as temperatures rose over the summer.
Futures as of 6/10/2020 versus previous week:
| | | |
| --- | --- | --- |
| Jul-20 | $1.810 | -$0.011 |
| Aug-20 | $1.896 | -$0.019 |
| Sep-20 | $1.951 | -$0.018 |
| Oct-20 | $2.043 | -$0.010 |
| Nov-20 | $2.411 | +$0.015 |
| Dec-20 | $2.887 | +$0.047 |
Natural Gas Inventory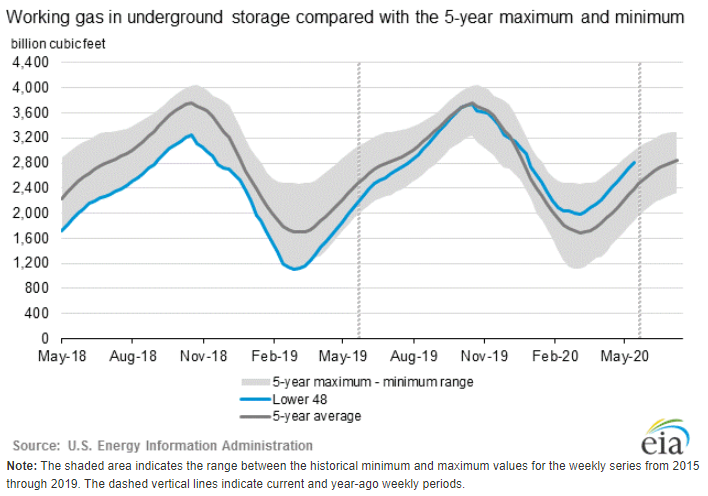 As of Friday, June 5, 2020 working gas in storage was 2,807 Bcf. According to EIA estimates this represents a net increase of 93 Bcf from the previous week. This is in line with the 5-year average of 94 Bcf.
The Baker Hughes exploration gas count rose by 2 rigs over the report week to a total of 78. This is 103 fewer rigs than the 181 in operation at this time one year ago.
Weather Update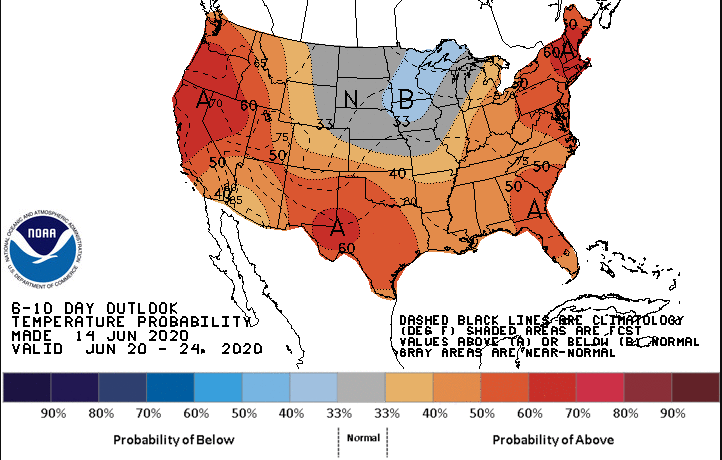 The 6-10 day NOAA outlook is calling for warmer than normal temperatures throughout most of the US with a small band of cooler temperatures over Wisconsin and Minnesota.
National Weather Service Updates (NOAA)
Hurricane Watch: No Current Hurricanes Click here to view the National Hurricane Center site.
Equatorial Pacific Outlook:
Click here to view La Nina and El Nino status.
Energy News
Effort to keep state's largest power plant open fuels concern about climate, public health EVERETT — The towering smokestacks of the state's largest power plant have loomed for decades over the Boston area, spewing pollutants that produce smog, warm the planet, and exacerbate asthma and other respiratory illnesses, such as the coronavirus.   If you would like to receive the Energy Market Update to your inbox weekly, please click here to submit your name and email address. Disclaimer: This information is provided for the use of our customers and potential customers. Power Management Company assumes no responsibility or liability for the accuracy or completeness of pricing or information in this document. Historical data was obtained from sources that we believe to be reliable, but we do not guarantee its accuracy or completeness. It is not intended to provide advice or recommendation. Views are subject to change without notice.