Electricity Markets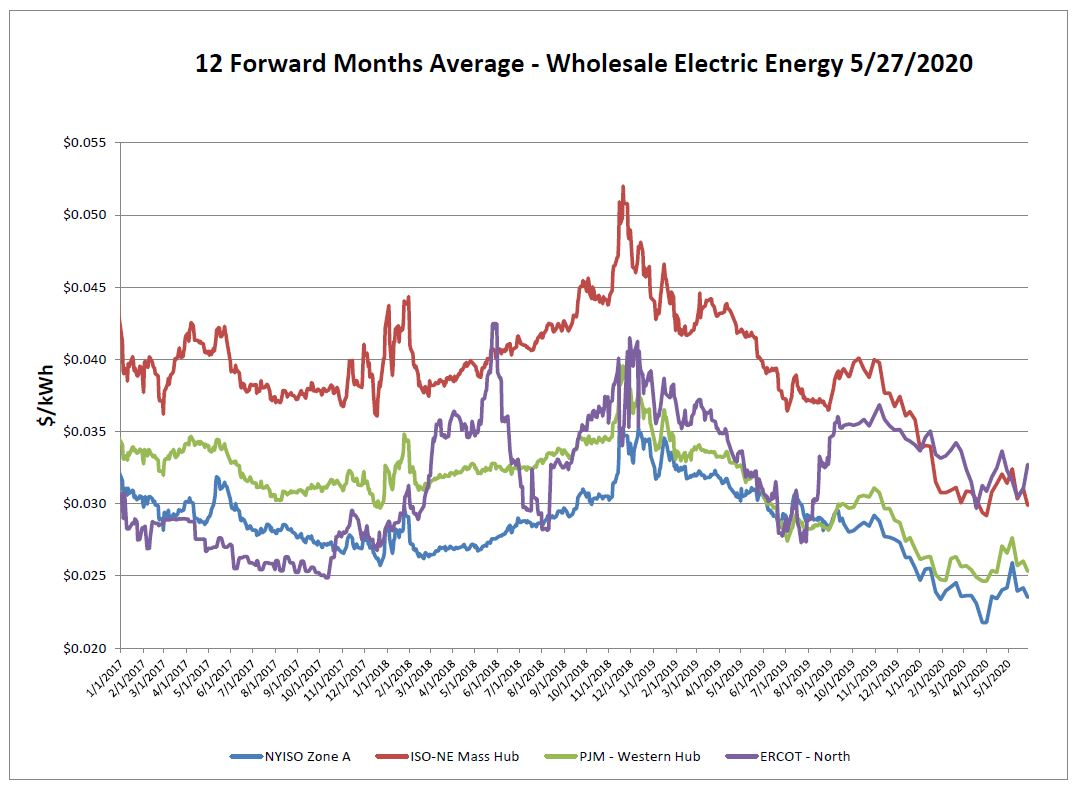 Electric prices in NYISO, ISO-NE and PJM fell over the report week while ERCOT had a sharp turn upward.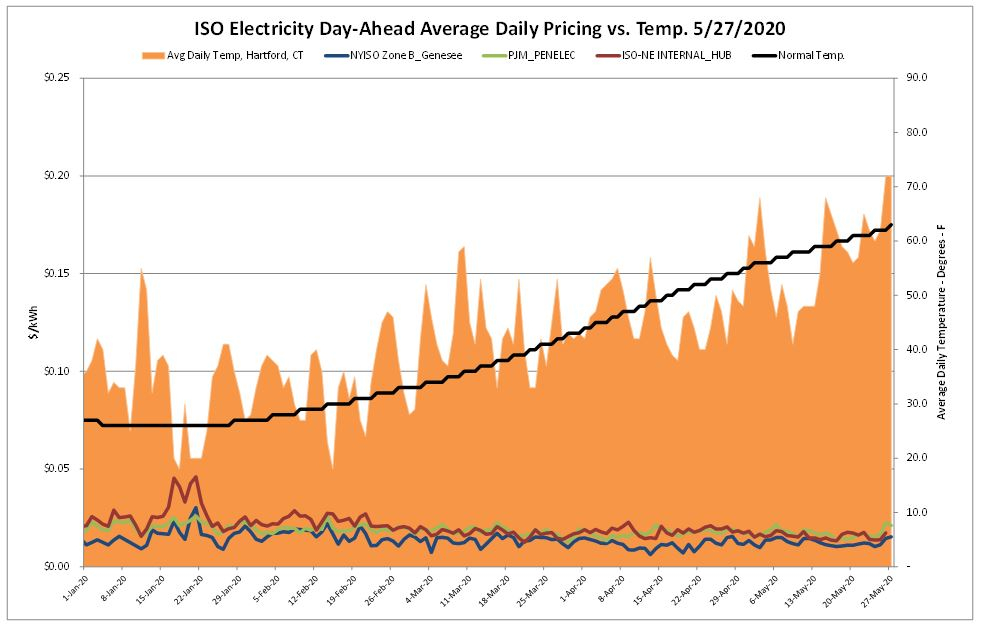 Although temperatures were above normal over the report week, the lack of demand has kept a lid on day-ahead prices.
Natural Gas Markets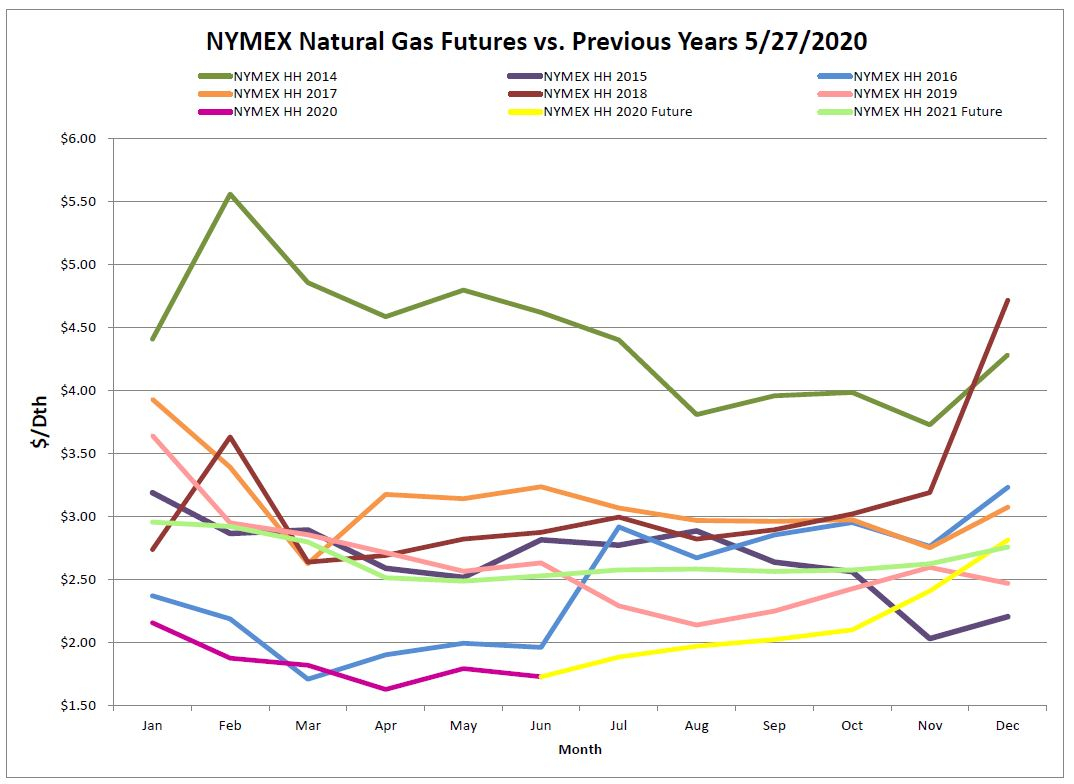 On Friday 5/22, the June '20 natural gas contract settled at $1.722. Production slipped to 86 Bcf/d, sliding from its peak of 92 Bcf/d in March. Over the last few weeks, oil prices have shown signs of life causing some companies to start producing again. Depending on how much strength oil gains, associated gas production could rebound along with it.
Futures as of 5/27/2020 versus previous week:
| | | |
| --- | --- | --- |
| Jul-20 | $1.886 | -$0.023 |
| Aug-20 | $1.972 | -$0.025 |
| Sep-20 | $2.024 | -$0.036 |
| Oct-20 | $2.102 | -$0.047 |
| Nov-20 | $2.410 | -$0.024 |
| Dec-20 | $2.814 | +$0.002 |
Natural Gas Inventory

As of Friday, May 22, 2020 working gas in storage was 2,612 Bcf. This represents a net increase of 109 Bcf from the previous week according to EIA estimates. This compares very closely to last year's injection of 110 Bcf. Current storage levels are 800 Bcf ahead of 2019 levels and 400 Bcf ahead of the 5-year average.

The Baker Hughes exploration gas count fell another 2 rigs over the report week to a total of 77. This is 107 fewer rigs than the 184 in operation at this time one year ago.
Weather Update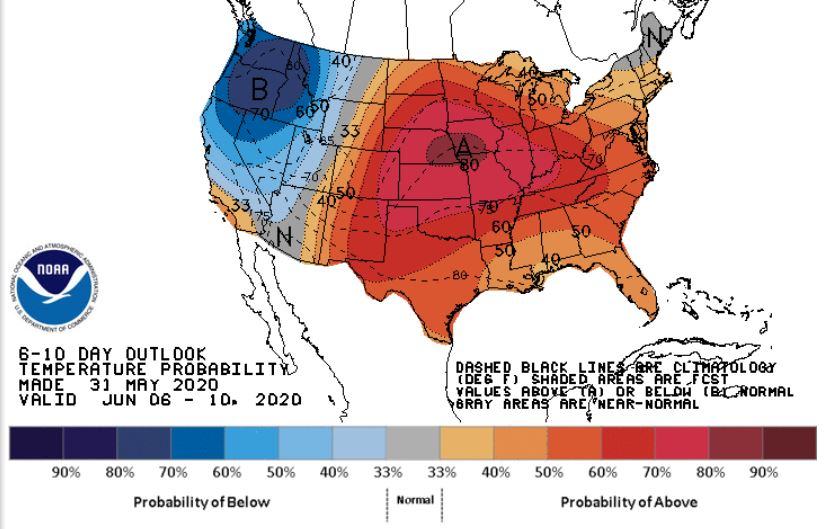 Many states saw summer-like conditions, some with temperature deviations as high as eight degrees above normal. The East is looking at a cool-off in the near term, with weather then heating up in the Mid-Con in the 6-10 day outlook.
National Weather Service Updates (NOAA)
Hurricane Watch: No Current Hurricanes
Click here to view the National Hurricane Center site.
Equatorial Pacific Outlook:
Click here to view La Nina and El Nino status.
Energy News
News- Pandemic pulls NY power prices down further from already-low 2019 levels
2019 energy prices down by 22% to 34% from 2018
EIA forecasts lower U.S. natural gas consumption in 2020
In the latest Short-Term Energy Outlook (STEO), the U.S. Energy Information Administration (EIA) forecasts that decreases in natural gas consumption in the United States in 2020 will be driven by declines in natural gas used in the industrial, commercial, and residential sectors. In the U.S. electric power sector, EIA forecasts natural gas consumption to decline in the second half of 2020 after growing in the first half of the year.
If you would like to receive the Energy Market Update to your inbox weekly, please click here to submit your name and email address.
Disclaimer: This information is provided for the use of our customers and potential customers. Power Management Company assumes no responsibility or liability for the accuracy or completeness of pricing or information in this document. Historical data was obtained from sources that we believe to be reliable, but we do not guarantee its accuracy or completeness. It is not intended to provide advice or recommendation. Views are subject to change without notice.