Electricity Markets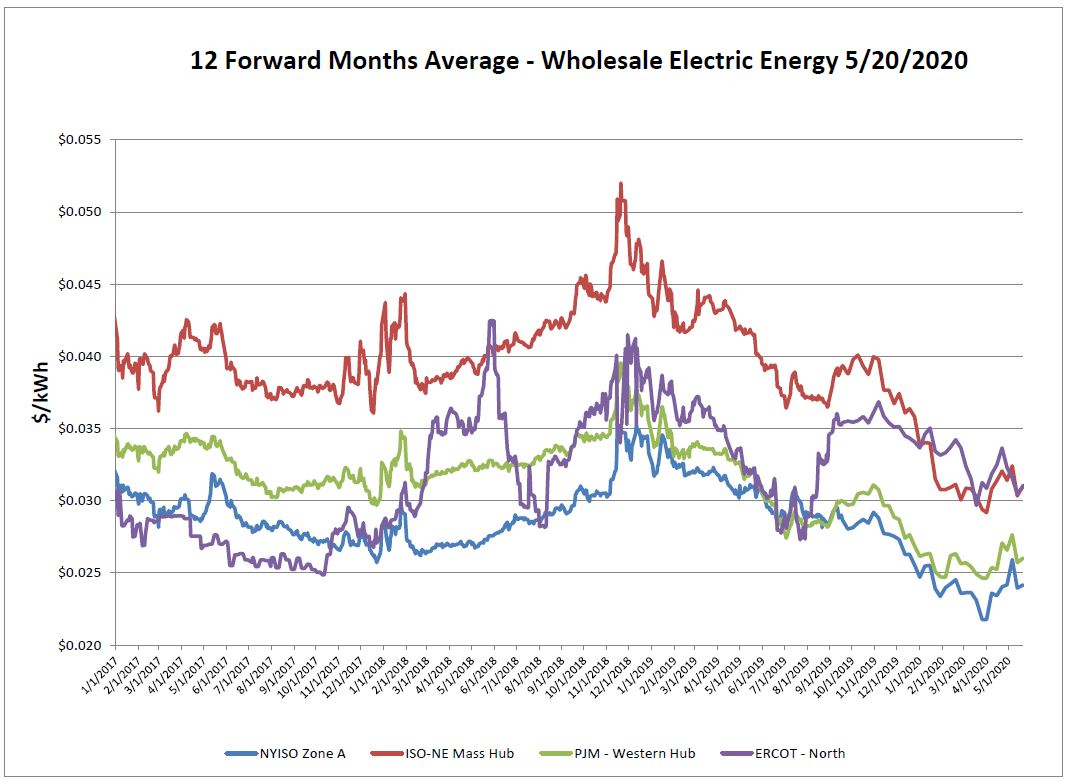 Small uptick in all electric markets on the heels of increased near-term natural gas prices.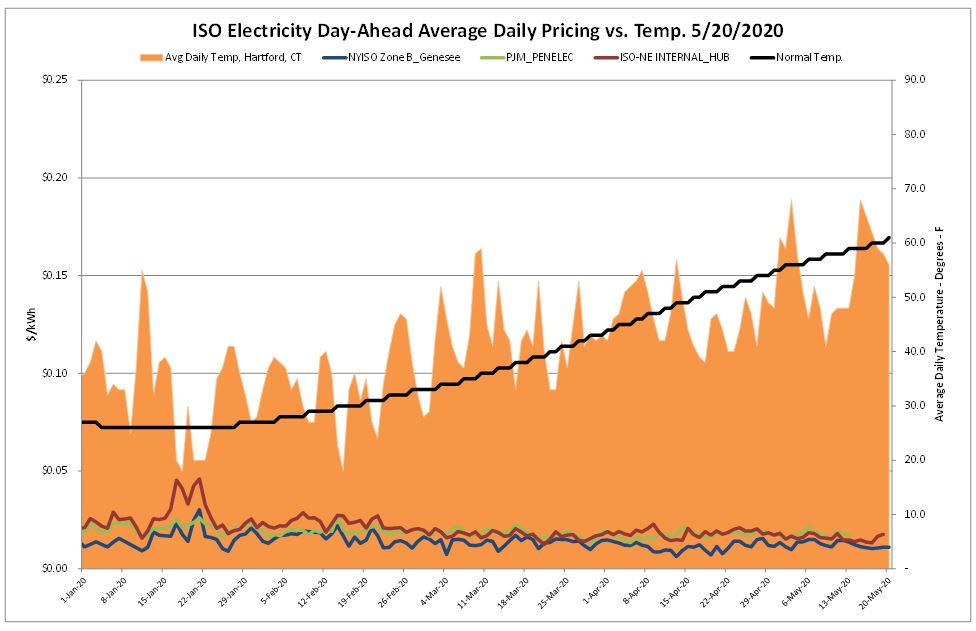 Most markets experienced a few days of more seasonable temperatures over the report week, still with little change to the day-ahead markets.
Natural Gas Markets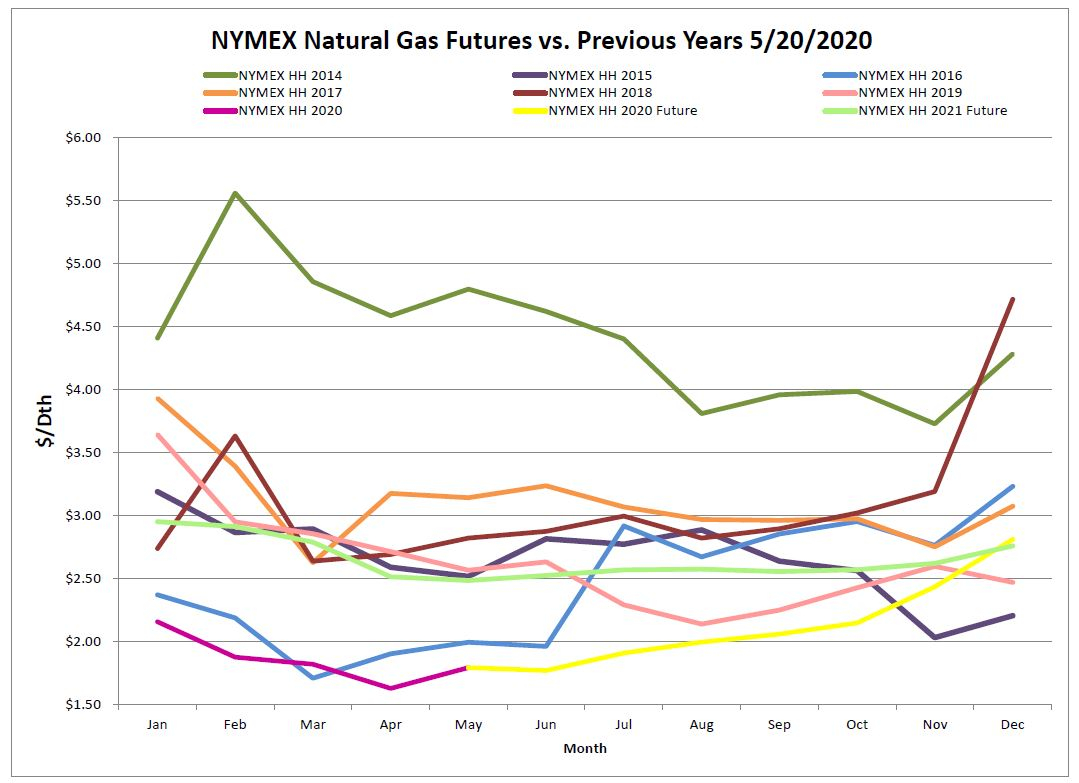 The 12-month NYMEX strip was up $0.04 over the report week while the Algonquin basis was down slightly, $0.02. Strength in the near-term market caused the balance of 2020 natural gas prices to move up a bit, while 2021 remained nearly unchanged. As production gets tighter and loads come back online slowly, this will likely drive up prices in the long term. The winter months of January-March are still trading just under $3.00, providing incentive to inject gas into storage. The oil markets have also started to regain some traction.
Futures as of 5/20/2020 versus previous week:
| | | |
| --- | --- | --- |
| Jun-20 | $1.771 | +$0.155 |
| Jul-20 | $1.909 | +$0.053 |
| Aug-20 | $1.997 | +$0.040 |
| Sep-20 | $2.060 | +$0.042 |
| Oct-20 | $2.149 | +$0.036 |
| Nov-20 | $2.434 | +$0.030 |
Natural Gas Inventory

As of Friday, May 15, 2020, working gas in storage was 2,503 Bcf. According to EIA estimates this represents a net increase of 81 Bcf from the previous week. This was in the line with the expected range of a 76-91 Bcf injection. Storage level now are 45% more than this time last year, and 19% higher than the five-year average

The Baker Hughes exploration gas count was unchanged over the report week holding steady for a total of 79. This is 107 fewer rigs than the 186 in operation at this time one year ago.
Weather Update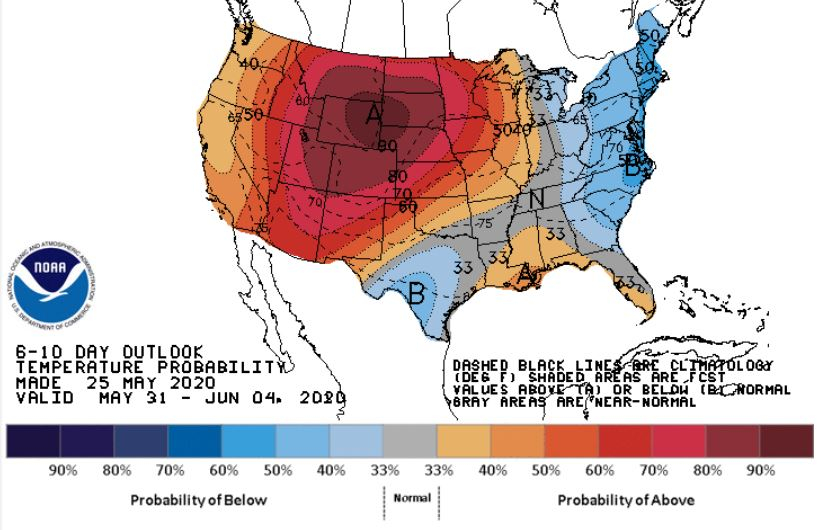 The eastern U.S. has seen quite the temperature roller coaster over the past few weeks. From snow falling to summer like heat within the matter of a week, winter might finally be over. The 6-10 day outlook for the beginning of June is calling for a warm up to the western CONUS and some cooler temperatures again to the east.
National Weather Service Updates (NOAA)
Hurricane Watch: No Current Hurricanes
Click here to view the National Hurricane Center site.
Equatorial Pacific Outlook:
Click here to view La Nina and El Nino status.
Energy News
The number of active U.S. crude oil and natural gas rigs is at the lowest point on record
Producers were operating the fewest oil and natural gas drilling rigs on record in the United States at 339 on May 12, the lowest level in the Baker Hughes Company's rig count data series that dates back to 1987.
If you would like to receive the Energy Market Update to your inbox weekly, please click here to submit your name and email address.
Disclaimer: This information is provided for the use of our customers and potential customers. Power Management Company assumes no responsibility or liability for the accuracy or completeness of pricing or information in this document. Historical data was obtained from sources that we believe to be reliable, but we do not guarantee its accuracy or completeness. It is not intended to provide advice or recommendation. Views are subject to change without notice.