Electricity Markets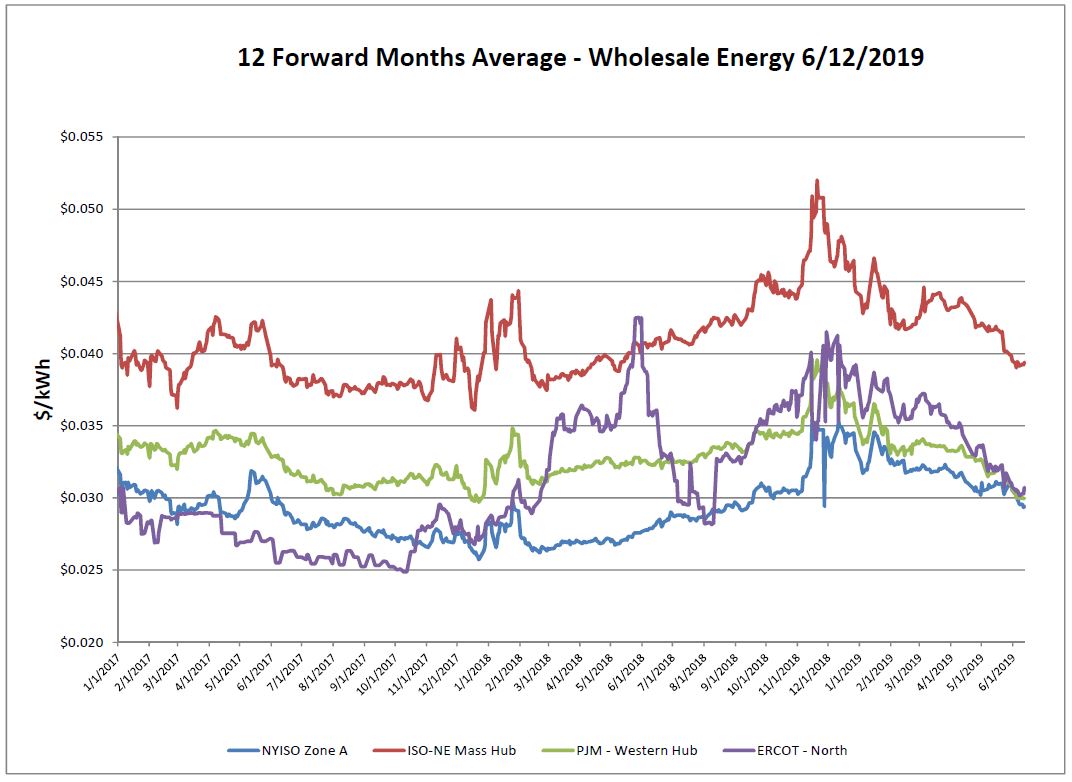 NYISO electric prices took another small slide over the report week. ISO-NE and PJM remained flat while ERCOT saw a slight tick up.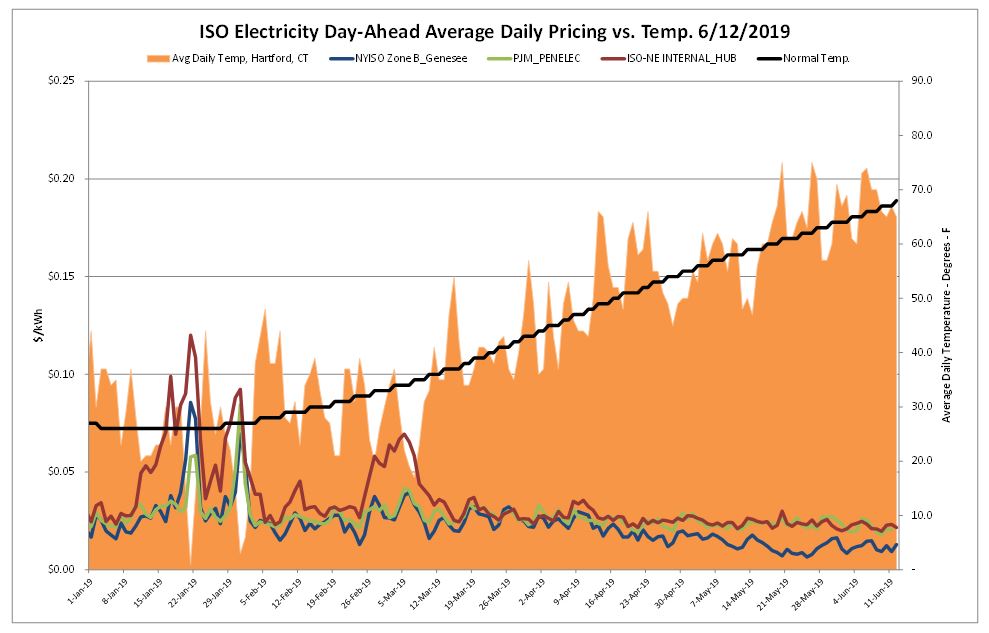 No real deviations from normal weather in either direction allowing the day-ahead market to remain unphased.
Natural Gas Markets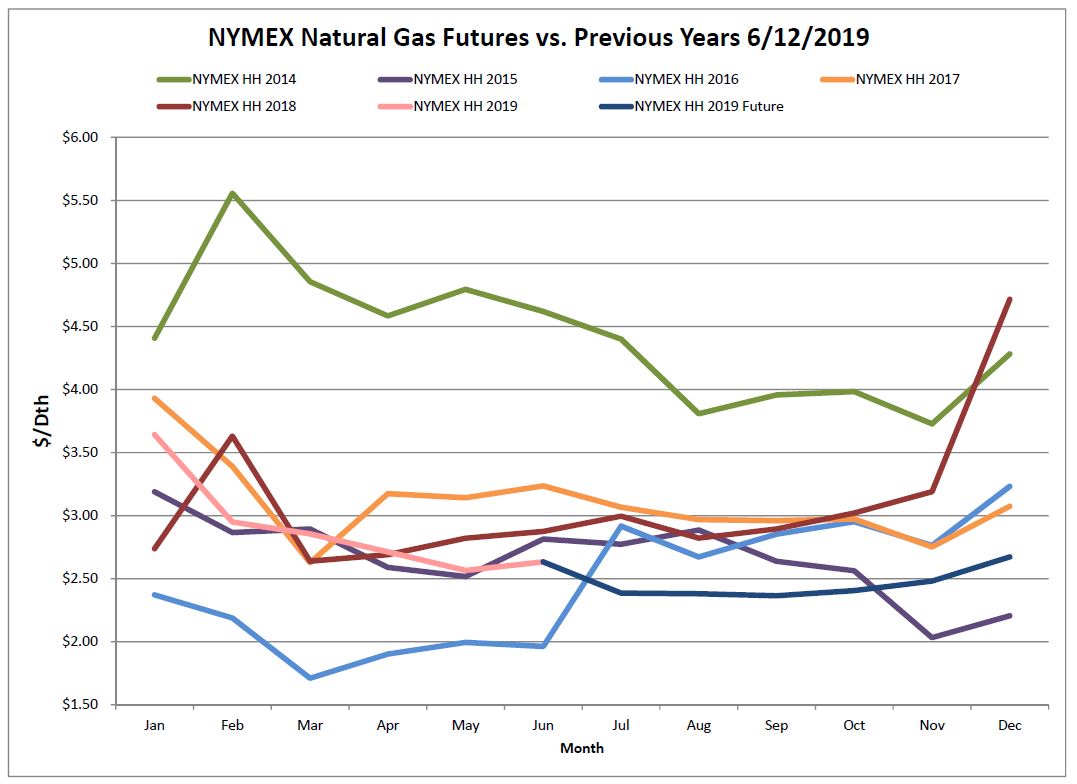 A slow start to the summer heat, as well as healthy gas production have kept a lid on natural gas prices despite relatively low natural gas inventories and increasing demand for U.S. natural gas exports.
The EIA released a report recently, predicting the share of utility-scale electricity generation from natural gasfired power plants to rise from 35% in 2018 to 37% in 2019 and to 38% in 2020. The forecast nuclear share of generation falls from 20% in 2019 to 19% in 2020, reflecting the retirement of some nuclear reactors. Renewable fuels, including wind, solar, and hydropower, are anticipated to collectively produce 18% of U.S. electricity in 2019 and almost 20% in 2020. EIA expects that annual generation from wind will surpass hydropower generation for the first time in 2019 to become the leading source of renewable electricity generation.
Six-Month Natural Gas Futures
Futures as of 6/12/2019 versus previous week:
| | | |
| --- | --- | --- |
| Jul-19 | $2.386 | $0.008 |
| Aug-19 | $2.381 | $0.001 |
| Sep-19 | $2.365 | -$0.007 |
| Oct-19 | $2.406 | -$0.019 |
| Nov-19 | $2.481 | -$0.037 |
| Dec-19 | $2.673 | -$0.038 |
Natural Gas Inventory

The EIA reported a net increase of 102 Bcf from the previous week. Working gas in storage was 2,088 Bcf as of Friday, June 7, 2019. For the corresponding week last year, we saw storage inventories increase by 95 Bcf, while the five-year average injection is 92 Bcf. This was the 13th consecutive injection greater than the 5-year average benchmark.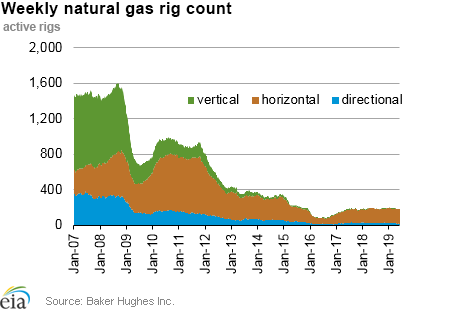 The Baker Hughes exploration gas rig count decreased 5 rigs from last week for a total of 181 rigs. This is 13 less rigs than were in operation at this time one year ago when there were 194 rigs.
Weather Update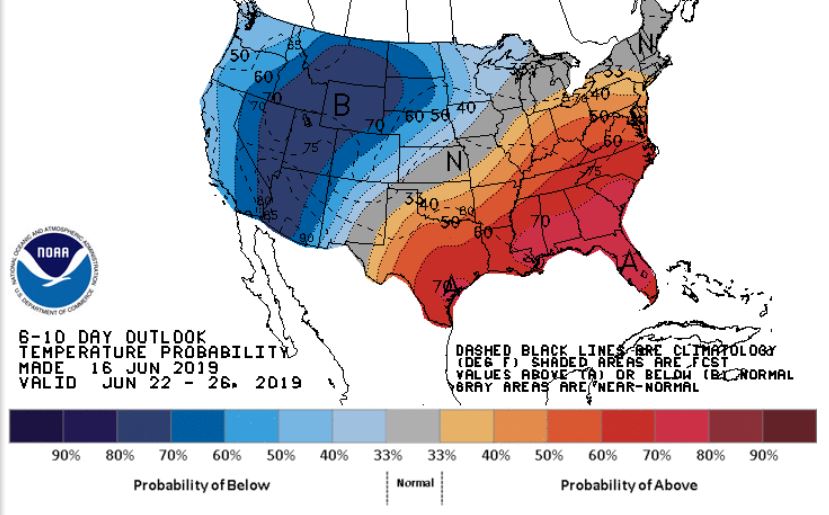 The West Coast warm-up appears to be over as the heat shifts down towards Texas and up through the Carolina's in the 6-10 day forecast.
National Weather Service Updates (NOAA)
Hurricane Watch- No Hurricane Activity
Click here to view the National Hurricane Center site.
Equatorial Pacific Outlook:
Click here to view La Nina and El Nino status.
Energy News
650-MW Killingly gas-fired plant in Connecticut receives last major
The Connecticut Siting Council approved the 650-MW Killingly natural gas -fired power plant, which has a firm fuel supply agreement to receive gas from the Algonquin Gas Transmission interstate pipeline, the plant's developer said Friday.  
ISO New England to retain Mystic-8, -9 gas-fired units in next capacity auction  
ISO New England reliability reviews have determined the Mystic-8 and Mystic-9 natural gas -fired power plant units in Massachusetts will be retained for fuel security reasons in the 14th capacity auction, which would be a bearish clearing price indicator, an analyst said Tuesday.  
If you would like to receive the Energy Market Update to your inbox weekly, please click here to submit your name and email address.
Disclaimer: This information is provided for the use of our customers and potential customers. Power Management Company assumes no responsibility or liability for the accuracy or completeness of pricing or information in this document. Historical data was obtained from sources that we believe to be reliable, but we do not guarantee its accuracy or completeness. It is not intended to provide advice or recommendation. Views are subject to change without notice.