Electricity Markets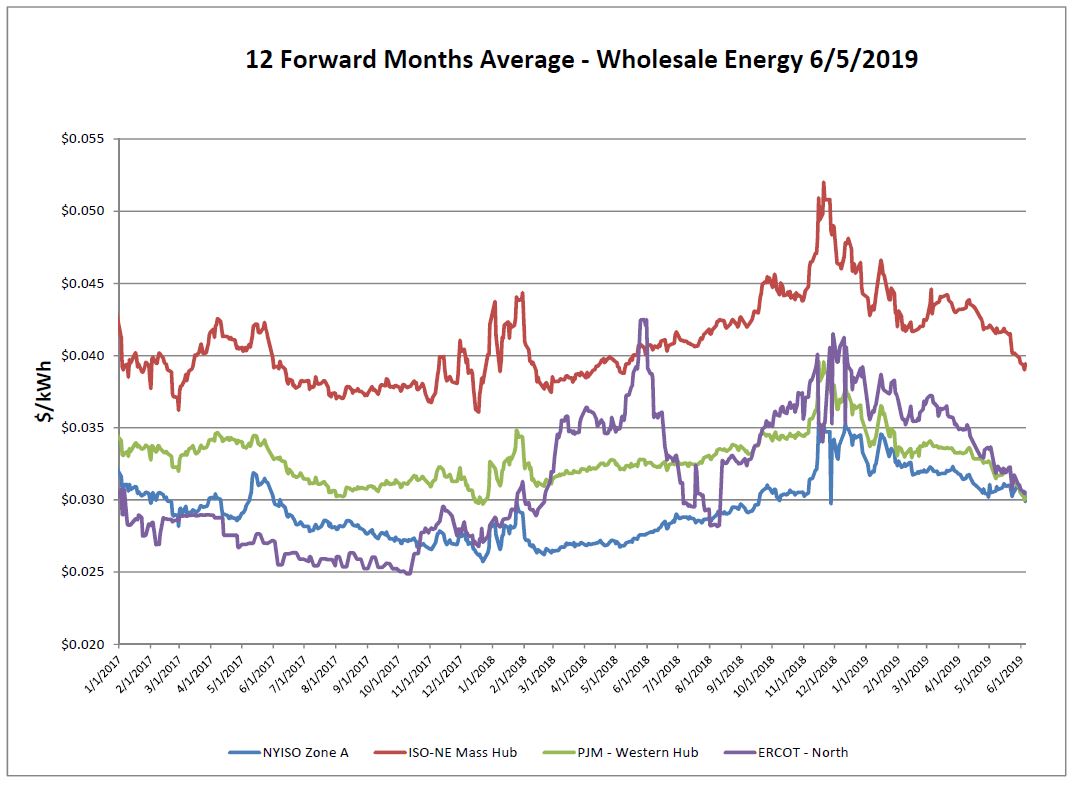 Electric prices continued to soften over the report week. Capacity across the board is down as is the wholesale cost of energy. NEISO slipped to the lowest levels it has seen since February/March 2018. PJM was traded at levels last seen at the end of 2017. ERCOT has yet to see any change in weather leading to a lack of volatility there. Although prices are currently very attractive, we must not lose sight of other market variable like the 600 MW of base-load generation that was retired with the closure of Pilgrim nuclear plant in New England. Winter peaks could begin to see a greater increase as this generation will need to be replaced by gas or oil.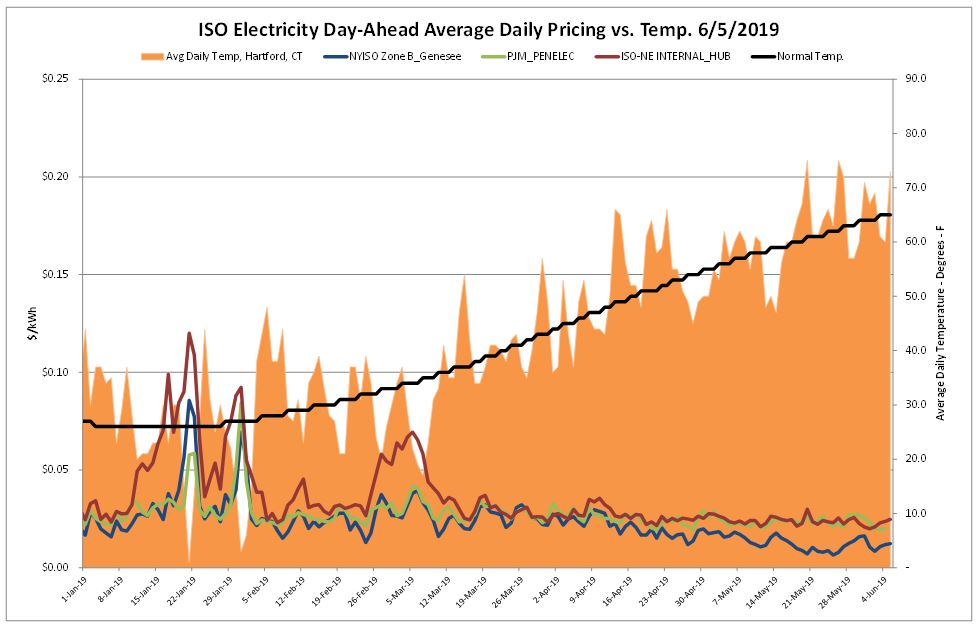 The day-ahead market continues to trade with little disruption. NYISO is floating below the other ISOs with little demand pressure due to mild weather.
Natural Gas Markets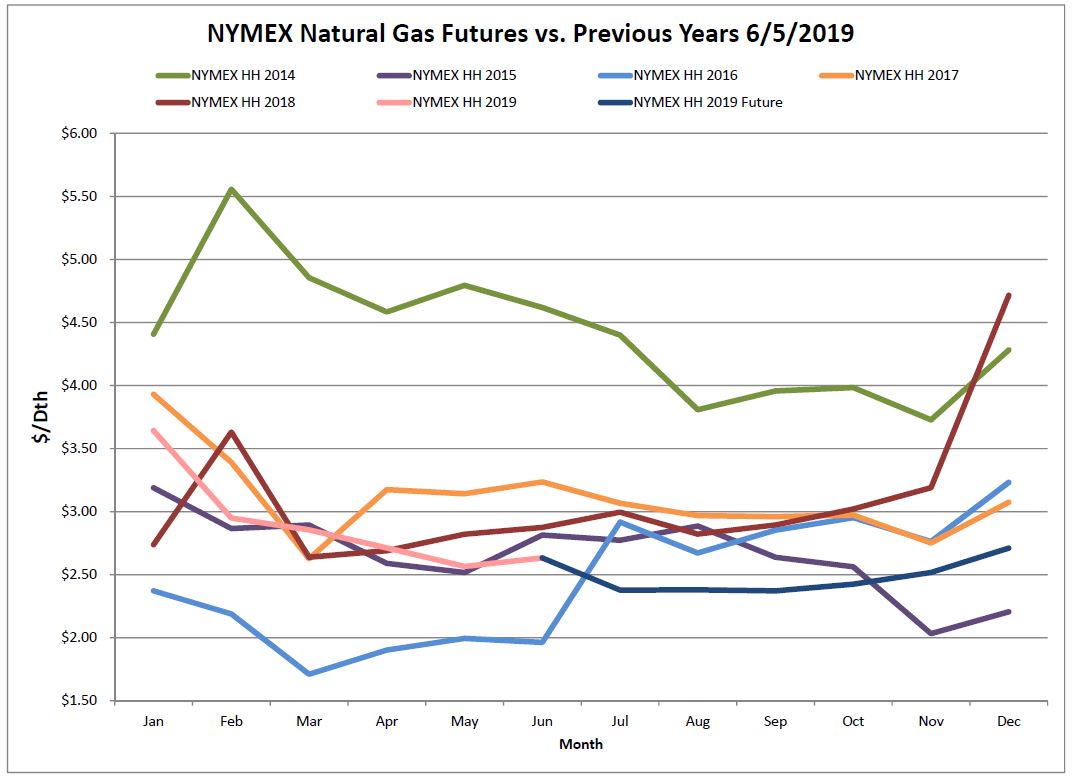 It's been an astounding bear run over the past 2 months as mild weather, strong supply, and improving storage continued to put downward pressure on forward prices over the report week.  The NYMEX 12-month strip was down $0.17 week over week. The July 2019 contract decreased to $2.378, down 25 cents from last week. The remaining 2019 NYMEX strip is all trading below the last 5 years of settlements with the exception of November & December 2015 which were a bit lower. The last time gas prices were within 15 cents of current levels was Q1 2016. While the stars currently seem to align, and weather forecasts show milder temps, those can change and low prices won't last forever.
Six-Month Natural Gas Futures
Futures as of 6/5/2019 versus previous week:
| | | |
| --- | --- | --- |
| Jul-19 | $2.378 | -$0.246 |
| Aug-19 | $2.380 | -$0.252 |
| Sep-19 | $2.372 | -$0.251 |
| Oct-19 | $2.425 | -$0.232 |
| Nov-19 | $2.518 | -$0.216 |
| Dec-19 | $2.711 | -$0.189 |
Natural Gas Inventory

The EIA reported a net injection of 119 Bcf from the previous week. Working gas in storage was 1,986 Bcf as of Friday, May 31, 2019. The report is both larger than last year and the 5-year average. The build was the 12th consecutive injection that was larger than the 5-year average. The deficit has shrunk to 11%.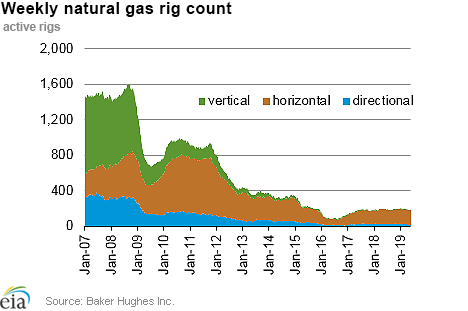 The Baker Hughes exploration gas rig count increased 2 rigs from last week for a total of 186 rigs. This is 12 less rigs than were in operation at this time one year ago when there were 198 rigs.
Weather Update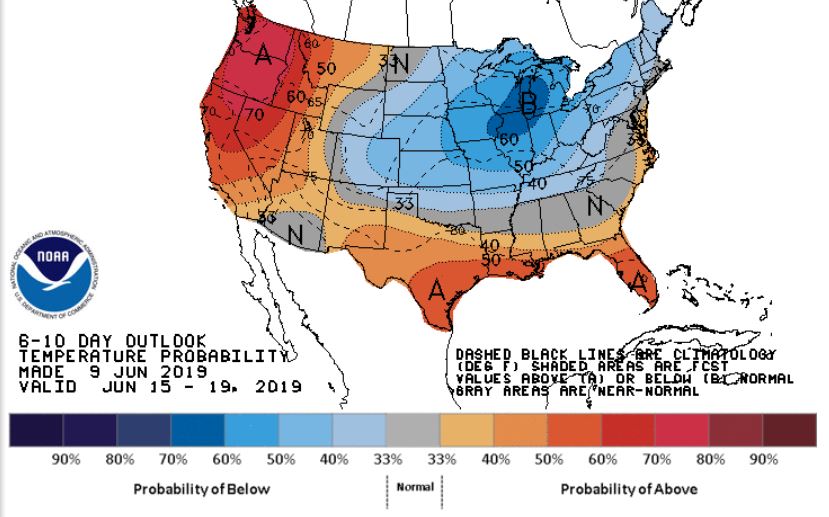 Below normal temperatures are expected for the Northeast and sweeping across the central CONUS. The west coast will experience warmer weather as we head into mid-June.
National Weather Service Updates (NOAA)
Hurricane Watch- No Hurricane Activity
Click here to view the National Hurricane Center site.
Equatorial Pacific Outlook:
Click here to view La Nina and El Nino status.
Energy News
New York Winters Could Pose Solar Farm 'Ramping' Snag For Power Grid
By adding utility-scale solar farms throughout New York state, summer electricity demand from conventional sources could be reduced by up to 9.6 percent in some places.
Nuclear retirements in Northeast expected to create gas demand
The retirement of several nuclear power plants in the Northeast over the next year and a half is expected to create an opportunity for natural gas -fired power generation.
If you would like to receive the Energy Market Update to your inbox weekly, please click here to submit your name and email address.
Disclaimer: This information is provided for the use of our customers and potential customers. Power Management Company assumes no responsibility or liability for the accuracy or completeness of pricing or information in this document. Historical data was obtained from sources that we believe to be reliable, but we do not guarantee its accuracy or completeness. It is not intended to provide advice or recommendation. Views are subject to change without notice.