New charges coming to the NE electric market
Clean Peak Program (CPP)  – (MA only)
As mentioned over the summer, the Massachusetts Legislature passed bill H.4857 aimed to promote a clean energy future. The new law changes concern renewable requirements and all MA customers and suppliers will be affected by these increases. Each supplier may treat these requirements differently. Executed agreements currently in effect or those which have not started yet may see these increases as pass-throughs effective starting in 2019 and 2020.
ISO-NE Fuel Security Costs
Another change coming to all of New England- suppliers will be collecting costs or charges that are incurred by load serving entities in the ISO New England service territory associated with fuel security reliability. This program is a partial replacement for winter reliability program and trying to accomplish similar objectives. On future contracts the increase will for most suppliers likely be listed as a pass-through charge as the exact impact per customer is still uncertain.
Electricity Markets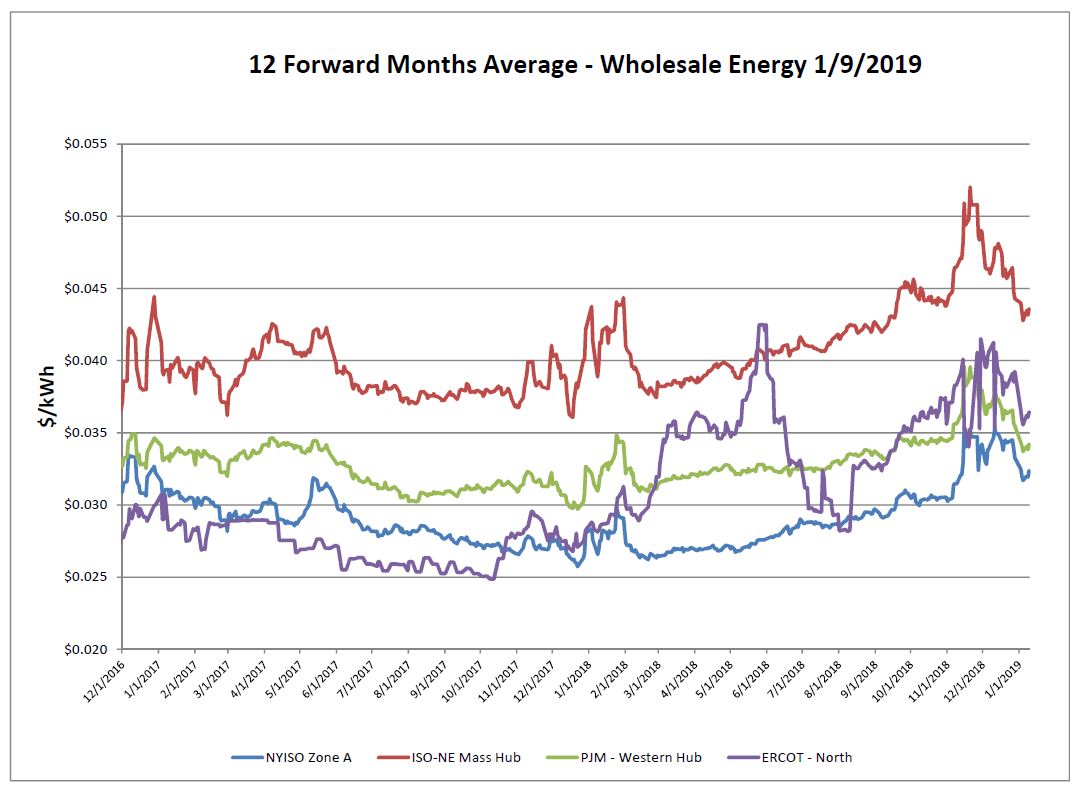 The downward trend on the electric market over the last few weeks was stopped with a slight uptick in all ISO's over the report week.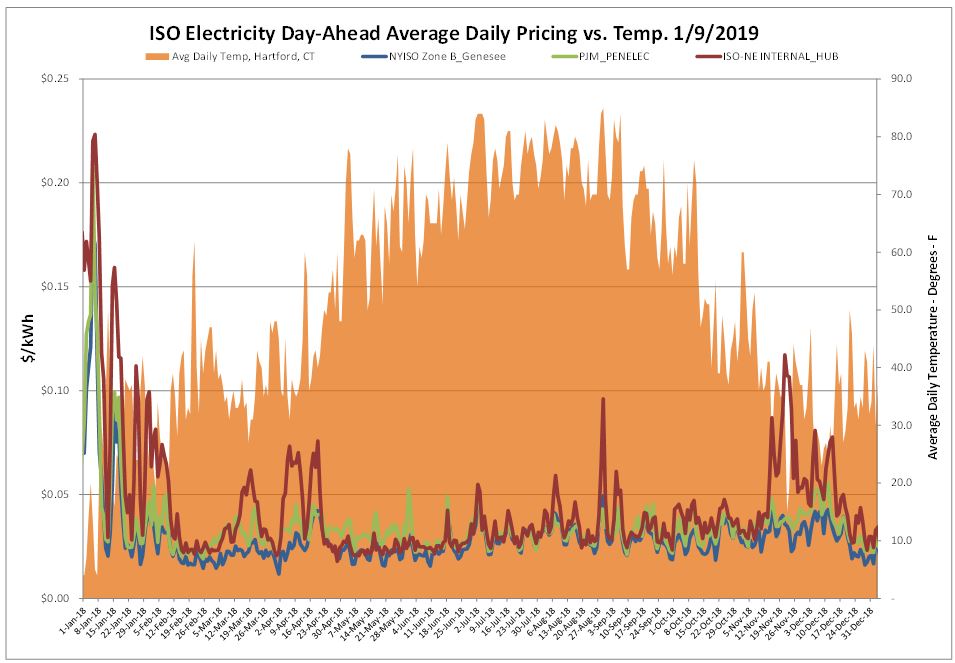 End of December into January showed little volatility on the day-ahead market as temperatures were widely normal to slightly above normal.
Natural Gas Markets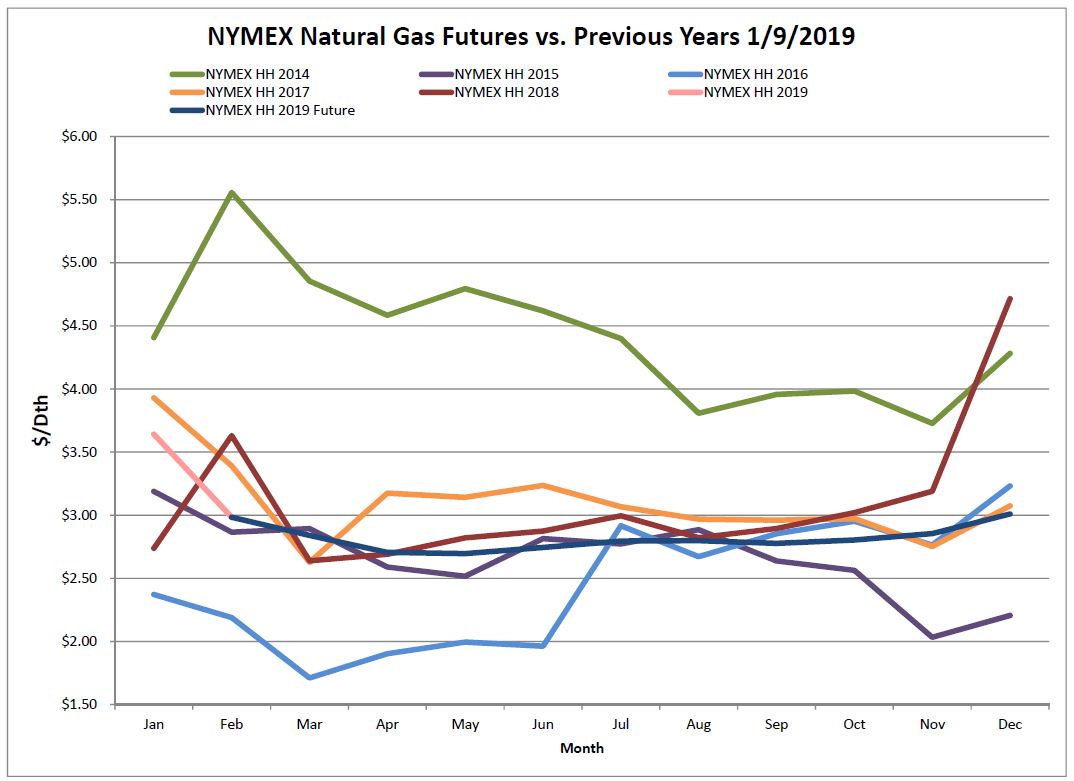 While slightly up over the report week, current prices are quite a discount from the elevated settle price back in December. The flat 12-month NYMEX strip (not heating load weighted) is currently trading at $2.84, while 1 month ago it was $3.25. The NYMEX + Algonquin basis was $5.11 one month ago and is currently $4.68. This trend is a bit unusual as many times January and February winter months trade on the high end.
Forecasts for snow and the return of winter weather on the east coast did put upward pressure on prices at the end of this report week End of the month forecasts are calling for some below-average temperatures along the east coast which should increase demand. There is still plenty of winter left to change the dynamics, so if you have been holding out, it may be wise to act on these attractive prices while available.
Nuclear outages across the country have averaged more than 4.2 GW thus far in 2019. That level represents a more than four-fold increase over the same period in 2018.
Six-Month Natural Gas Futures
Futures as of 1/9/2019 versus previous week: 
| | | |
| --- | --- | --- |
| Feb-19 | $2.984 | + $0.041 |
| Mar-19 | $2.840 | + $0.025 |
| Apr-19 | $2.706 | + $0.078 |
| May-19 | $2.696 | + $0.095 |
| Jun-19 | $2.745 | + $0.101 |
| Jul-19 | $2.796 | + $0.108 |
Natural Gas Inventory

As of Friday, January 4, 2019, a net decrease of 87 Bcf from the previous week was reported. During the same week last year, the largest withdrawal on record has been reported at 359 Bcf. This week there was some good ground made up as this withdrawal was much below both last year and the 5-year average of 187 Bcf.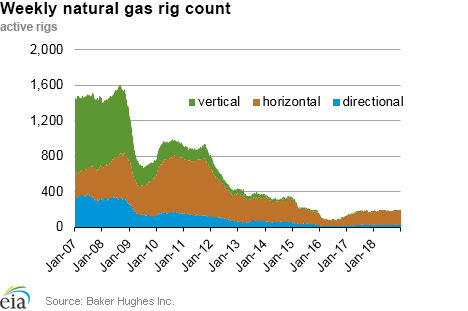 The Baker Hughes exploration gas rig count increased 4 rigs from last week for a total of 202 rigs. This is 15 more rigs than were in operation at this time one year ago when there were 187 rigs.
Weather Update

The NOAA 6-10 day outlook anticipates a return of below average temperatures to the east coast and Midwest. Many of the Southern states may also see some cooler temperatures with the exception of Florida, Georgia and South Carolina.
National Weather Service Updates (NOAA)
Hurricane Watch- No Hurricane Activity
Click here to view the National Hurricane Center site.
Equatorial Pacific Outlook:
Click here to view La Nina and El Nino status.
Energy News & Resources
Indian Point closure will put power supply in flux
The title of its website touts the Indian Point nuclear power complex along the Hudson River as "safe, secure and vital."
U.S. liquefied natural gas export capacity to more than double by the end of 2019
EIA projects that U.S. liquefied natural gas (LNG) export capacity will reach 8.9 billion cubic feet per day (Bcf/d) by the end of 2019, making it the third largest in the world behind Australia and Qatar.
If you would like to receive the Energy Market Update to your inbox weekly, please click here to submit your name and email address.
Disclaimer: This information is provided for the use of our customers and potential customers. Power Management Company assumes no responsibility or liability for the accuracy or completeness of pricing or information in this document. Historical data was obtained from sources that we believe to be reliable, but we do not guarantee its accuracy or completeness. It is not intended to provide advice or recommendation. Views are subject to change without notice.