Electricity Markets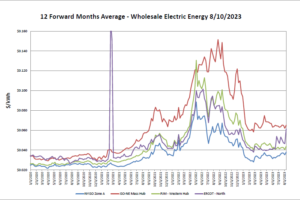 Forward markets trended slightly upward this week, mainly driven by an increase in the NYMEX. Texas saw a sizable increase as a result of sustained heat that continues to grip the South. Not as many major swings in forward pricing in the Northeast as major heat is lacking in the region.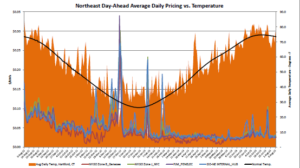 Temperatures cooled off this week, and spot pricing was calm as a result.
Natural Gas Markets

Near term Forward pricing years went up over the last week. Forward pricing years are beginning to consolidate as we near the start of the heating season. Supply and demand is tighter and storage is not as strong as it was last year at this point. Natural gas surpluses are less.
Futures as of 8/10/2023 versus previous week:
| | | |
| --- | --- | --- |
|   | Current |   |
| Sep-23 | $2.891 | +$0.350 |
| Oct-23 | $2.986 | +$0.340 |
| Nov-23 | $3.384 | +$0.343 |
| Dec-23 | $3.811 | +$0.338 |
| Jan-24 | $3.994 | +$0.295 |
| Feb-24 | $3.904 | +$0.275 |
Natural Gas Inventory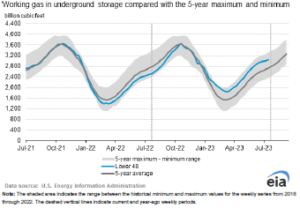 Working gas in storage was 3,030 BCF as of Friday, August 4th,  according to EIA estimates. This represents a net increase of 29 Bcf from the previous week.

The Baker Hughes exploration decreased by 5 rigs, for a total of 123 this week.
Weather Update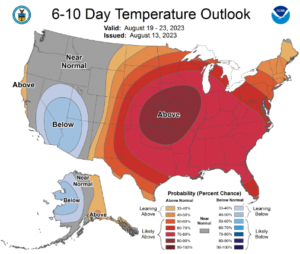 Temperatures will be above average across the East Coast and Midwest, and below average across the Southwest
Hurricane Watch:  Click here to view the National Hurricane Center site.  
News : Texas grid hits another peak load record, set to tumble regularly through Aug. 15- The Electric Reliability Council of Texas set an unofficial record peak load of 83.9 GW on Aug. 7, which is forecast to be exceeded regularly through Aug.15 as a heat dome hits triple-digit highs across much of the state, bringing quadruple-digit real-time prices for almost two hours Aug. 7.  
If you would like to receive the Energy Market Update to your inbox weekly, please click here to submit your name and email address.   Disclaimer: This information is provided for the use of our customers and potential customers. Power Management Company assumes no responsibility or liability for the accuracy or completeness of pricing or information in this document. Historical data was obtained from sources that we believe to be reliable, but we do not guarantee its accuracy or completeness. It is not intended to provide advice or recommendation. Views are subject to change.