Electricity Markets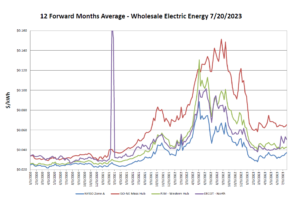 Forward markets increased again over the past week, and can be expected to continue to increase of heat continues to settle in long term across the majority of the country.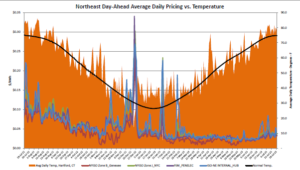 Spot pricing trended upward again and has been more volatile as of late. Despite the extended heat, market does not remain as volatile as it did at this time last year.
Natural Gas Markets

2024 and 2025 forward pricing years dropped slightly. Increases in pricing mainly being driven by near term volatility. Pricing further out into the future looks very optimal right now.
Futures as of 7/20/2023 versus previous week:
| | | |
| --- | --- | --- |
|   | Current |   |
| Aug-23 | $2.736 | +$0.095 |
| Sep-23 | $2.708 | +$0.100 |
| Oct-23 | $2.800 | +$0.106 |
| Nov-23 | $3.169 | +$0.060 |
| Dec-23 | $3.558 | +$0.034 |
| Jan-23 | $3.772 | +$0.009 |
Natural Gas Inventory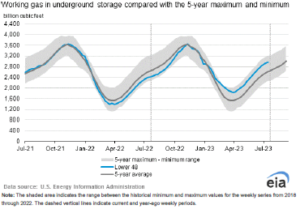 Working gas in storage was 2,971 BCF as of Friday, July 14th, according to EIA estimates. This represents a net increase of 41 Bcf from the previous week.

The Baker Hughes exploration decreased by 2 rigs, for a total of 131 this week.
Weather Update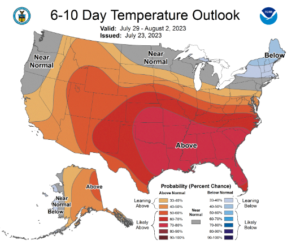 Temperatures will be at or above average across most the country
Hurricane Watch:  Click here to view the National Hurricane Center site.  
Study: As 'peaker plants' go offline in NYC, parts of state could go dark during heat- New York City could face power outages during the summer of 2025, when fossil fuel-fired plants that have been trusted workhorses during heatwaves are forced to shut down to serve the state's green energy goals.
If you would like to receive the Energy Market Update to your inbox weekly, please click here to submit your name and email address.   Disclaimer: This information is provided for the use of our customers and potential customers. Power Management Company assumes no responsibility or liability for the accuracy or completeness of pricing or information in this document. Historical data was obtained from sources that we believe to be reliable, but we do not guarantee its accuracy or completeness. It is not intended to provide advice or recommendation. Views are subject to change.