Electricity Markets
Forward markets remained quiet across the Northeast over the past week. However, Texas forward markets experienced a sizable spike that was driven by near record heat. Elevated forward markets in Texas are expected to last into the next week as higher temperatures settle in across the Southern Plains.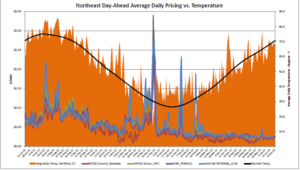 Temperatures once again were mild over the past week. Minimal cooling demand kept spot pricing stable.
Natural Gas Markets

Minimal movement in Forward pricing years over the past week. 2023 forward pricing did increase slightly.
Futures as of 6/22/2023 versus previous week:
| | | |
| --- | --- | --- |
|   | Current |   |
| Jul-23 | $2.604 | +$0.171 |
| Aug-23 | $2.689 | +$0.192 |
| Sep-23 | $2.679 | +$0.186 |
| Oct-23 | $2.784 | +$0.161 |
| Nov-23 | $3.141 | +$0.083 |
| Dec-23 | $3.572 | +$0.065 |
Natural Gas Inventory 
Working gas in storage was 2,729 BCF as of Friday, June 16th, according to EIA estimates. This represents a net increase of 95 Bcf from the previous week.

The Baker Hughes exploration remained the same, for a total of 130 this week.
Weather Update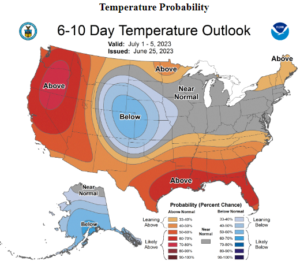 Temperatures will be above average across the West Coast and Southeast, and below average across the Midwest
Hurricane Watch:  Click here to view the National Hurricane Center site.  
Climate goals at odds with NY's power needs- Report: State's energy grid must still rely on fossil fuel plants, at least for now, to avoid the risk of blackouts
News : Experts debate New England power market changes during gas-electric forum- Experts have offered mixed views on whether New England's grid operator should shift from a three-year forward capacity auction construct to an approach that procures power supplies closer to when they are needed.  
If you would like to receive the Energy Market Update to your inbox weekly, please click here to submit your name and email address.   Disclaimer: This information is provided for the use of our customers and potential customers. Power Management Company assumes no responsibility or liability for the accuracy or completeness of pricing or information in this document. Historical data was obtained from sources that we believe to be reliable, but we do not guarantee its accuracy or completeness. It is not intended to provide advice or recommendation. Views are subject to change.