Electricity Markets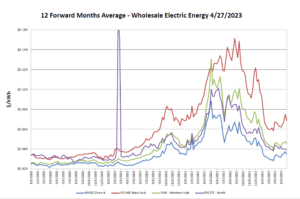 Cooler temperatures and lack of demand over the last week drove down forward pricing across all markets.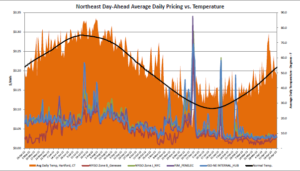 Spot pricing remained stable over the last week. Seasonably average temperatures over the coming week will likely continue to keep things quiet.
Natural Gas Markets

No significant shifts in the future markets over the last week were observed as middling temperatures kept demand low and allowed for a strong injection into storage.
Futures as of 4/27/2023 versus previous week:
| | | |
| --- | --- | --- |
|   | Current |   |
| Jun-23 | $2.416 | -$0.124 |
| Jul-23 | $2.609 | -$0.120 |
| Aug-23 | $2.677 | -$0.109 |
| Sep-23 | $2.650 | -$0.098 |
| Oct-23 | $2.739 | -$0.092 |
| Nov-23 | $3.144 | -$0.052 |
Natural Gas Inventory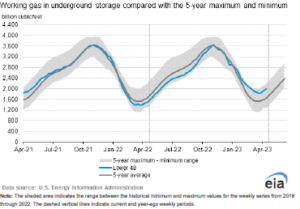 Working gas in storage was 2,009 BCF as of Friday, April 21st, according to EIA estimates. This represents a net increase of 79 Bcf from the previous week.

The Baker Hughes exploration increased by 2 rigs for a total of 161 this week. There are 144 additional rigs in operation than at this time one year ago.
Weather Update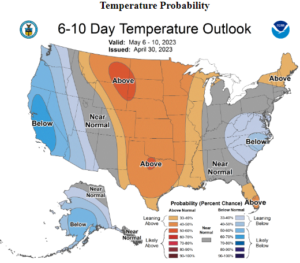 Temperatures will be below average across the West Coast, and above average in the Midwest
Hurricane Watch:  Click here to view the National Hurricane Center site.  
News : US law preempts Berkeley, California's ban on gas in buildings: appeals court- a US appeals court panel found that a federal law preempts Berkeley, California's 2019 natural gas ban, overturning a lower court ruling to dismiss a case brought by a California restaurant trade group to overturn the pioneering policy  
If you would like to receive the Energy Market Update to your inbox weekly, please click here to submit your name and email address.   Disclaimer: This information is provided for the use of our customers and potential customers. Power Management Company assumes no responsibility or liability for the accuracy or completeness of pricing or information in this document. Historical data was obtained from sources that we believe to be reliable, but we do not guarantee its accuracy or completeness. It is not intended to provide advice or recommendation. Views are subject to change.