Electricity Markets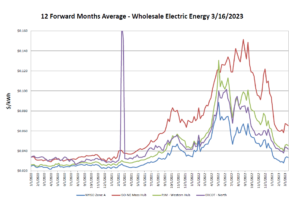 There was minimal movement in the market over the last week. After extended market volatility, the market appears to be entering a quiet period as a result of the warm winter and increased gas production. Now is still a good time to take positions into the future.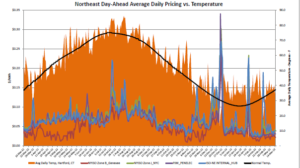 Temperatures remained at seasonal norms over the last week and kept the spot markets stable
Natural Gas Markets

There was minimal change in forward markets over the past week. Near term futures trended down slightly while 2024 and 2025 costs remain optimal in response to strong natural gas storage and LNG facilities opening up in the next 1-2 years
Futures as of 3/9/2023 versus previous week:
| | | |
| --- | --- | --- |
|   | Current |   |
| Apr-23 | $2.495 | -$0.098 |
| May-23 | $2.590 | -$0.154 |
| Jun-23 | $2.797 | -$0.182 |
| Jul-23 | $2.999 | -$0.176 |
| Aug-23 | $3.036 | -$0.172 |
| Sep-23 | $2.991 | -$0.184 |
Natural Gas Inventory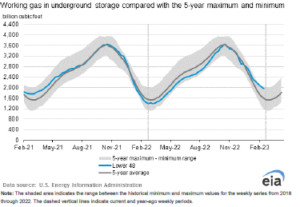 Working gas in storage was 1,972 BCF as of Friday, March 10th, according to EIA estimates. This represents a net decrease of 58 Bcf from the previous week.

The Baker Hughes exploration gas increased by 9 rigs for a total of 162 this week. There are 135 additional rigs in operation than at this time one year ago.
Weather Update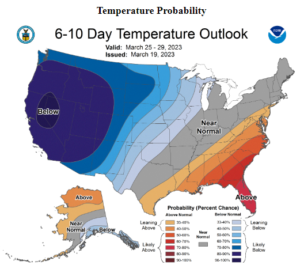 Temperatures will be above average across the Southeast, and below average across the Midwest and West Coast.
Hurricane Watch:  Click here to view the National Hurricane Center site.
News : PJM and its stakeholders address natural gas, power market Misalignment– PJM Interconnection is working with stakeholders to address misalignments between power and natural gas markets as grid operators become increasingly dependent on gas -fired generation to balance the grid while gas pipelines are increasingly constrained, making it difficult to address variations in load and intermittent generation.
News : US shale gas drillers cut some rigs, but Wall Street wants more to drop- Rig count data showed that America's shale producers shook off a call from Wall Street to cut natural gas production in 2023 as a way to bolster battered commodity prices.

If you would like to receive the Energy Market Update to your inbox weekly, please click here to submit your name and email address.   Disclaimer: This information is provided for the use of our customers and potential customers. Power Management Company assumes no responsibility or liability for the accuracy or completeness of pricing or information in this document. Historical data was obtained from sources that we believe to be reliable, but we do not guarantee its accuracy or completeness. It is not intended to provide advice or recommendation. Views are subject to change.