Electricity Markets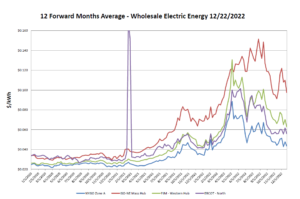 A drop in forward pricing was observed across all markets this past week. This downward trajectory is reflective of anticipated long-term warmth anticipated to start in early January.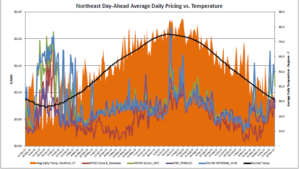 Cold weather has led to increased volatility across all regions. This is expected to continue as temperatures are predicted to remain cold through the New Year.
Natural Gas Markets

Forward pricing for 2023 is now trending below 2024. We could see some additional downward movement in light of increased natural gas storage as incoming warm weather would lessen national demand.
Futures as of 12/22/2022 versus previous week:
| | | |
| --- | --- | --- |
|   | Current |   |
| Jan-23 | $5.227 | -$1.390 |
| Feb-23 | $5.145 | -$1.224 |
| Mar-23 | $4.707 | -$1.044 |
| Apr-23 | $4.454 | -$0.778 |
| May-23 | $4.445 | -$0.755 |
| Jun-23 | $4.581 | -$0.694 |
Natural Gas Inventory 
Working gas in storage was 3,325 BCF as of Friday, December 16th. According to EIA estimates this represents a net decrease of 87 Bcf from the previous week.

The Baker Hughes exploration gas count increased by 1 rig for a total of 155 this week. There are 104 additional rigs in operation than at this time one year ago.
Weather Update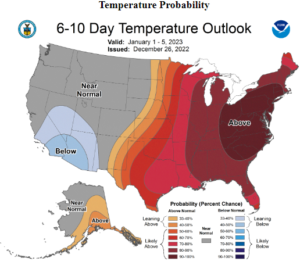 Temperatures will be above average across the East Coast and Midwest, with temperatures near normal across the West Coast.
Hurricane Watch:  Click here to view the National Hurricane Center site.
Equatorial Pacific Outlook: Click here to view La Nina and El Nino status.
News: Feedgas deliveries to Freeport LNG spike as production restart target nears- The offline Freeport LNG export terminal in Texas was on track to receive some 54.5 MMcf/d of feedgas on Dec. 21, a day after a spike in deliveries from a pipeline feeding the facility as the operator's year end target for resuming production approaches, S&P Global Commodity Insights data showed.  
Market Commentary: US Central cash gas prices surge on higher demand- US Mid continent spot natural gas prices increased dramatically Dec. 21, as temperatures are forecast to plummet with the approach of a blizzard into the region.
If you would like to receive the Energy Market Update to your inbox weekly, please click here to submit your name and email address.   Disclaimer: This information is provided for the use of our customers and potential customers. Power Management Company assumes no responsibility or liability for the accuracy or completeness of pricing or information in this document. Historical data was obtained from sources that we believe to be reliable, but we do not guarantee its accuracy or completeness. It is not intended to provide advice or recommendation. Views are subject to change.