Electricity Markets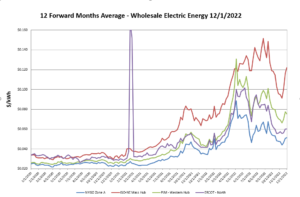 Markets have stabilized a bit in response to balmy weather.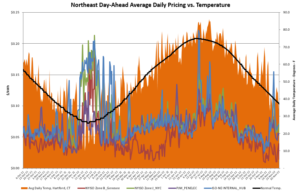 Markets have leveled off in response to temperatures stabilizing. 
Natural Gas Markets

Short term pricing remains volatile and elevated. Outward years pricing has consolidated.
Futures as of 12/1/2022 versus previous week:
| | | |
| --- | --- | --- |
|   | Current |   |
| Jan-23 | $6.930 | $0.258 |
| Feb-23 | $6.818 | $0.394 |
| Mar-23 | $6.178 | $0.553 |
| Apr-23 | $5.247 | $0.357 |
| May-23 | $5.181 | $0.400 |
| Jun-23 | $5.256 | $0.044 |
Natural Gas Inventory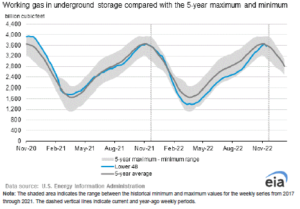 Working gas in storage was 3,483 BCF as of Friday, November 25th. According to EIA estimates this represents a net decrease of 81 Bcf from the previous week.

The Baker Hughes exploration gas count remained unchanged for a total of 155 this week. There are 102 additional rigs in operation than at this time one year ago.
Weather Update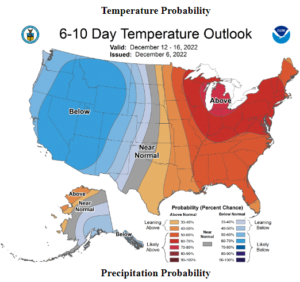 Temperatures will be below average across the West and Midwest. Temperatures will be above average across the Midwest and East Coast.
Hurricane Watch:  Click here to view the National Hurricane Center site.
Equatorial Pacific Outlook: Click here to view La Nina and El Nino status.  
News : US Freeport LNG to resume 80% output in mid-Dec, full output in Mar: JERA president- US Freeport LNG expects to resume 80% output in around mid-December following resumption of initial production at the US liquefaction facility and resume full production in March, JERA President Satoshi Onoda said Nov. 29.
News : US DOE 'closely monitoring' fuel availability, as New England senators seek to head off risks- The US Department of Energy and the Biden administration are "closely monitoring" winter fuel availability in New England and are "preparing to address any resulting risks," especially if the weather is colder than expected, a DOE spokesperson said Nov. 30.
News : NYISO power grid reliability assessment finds reliability concerns over next decade- Future New York power grid reliability is dependent on coordinated scheduling of new generation and transmission projects, along with other factors, the New York Independent System Operator said Nov. 30, the same day that construction began on a 1,250-MW transmission project to bring hydropower from Canada into New York City.
News : Rail, industry officials push US Congress to act quickly to avoid a rail strike- Congress should answer US President Joe Biden's call to step in and avert a rail strike before operations start winding down this weekend in preparation for a Dec. 9 strike deadline, officials from the railroad, oil and other industries said Nov. 29.
If you would like to receive the Energy Market Update to your inbox weekly, please click here to submit your name and email address.   Disclaimer: This information is provided for the use of our customers and potential customers. Power Management Company assumes no responsibility or liability for the accuracy or completeness of pricing or information in this document. Historical data was obtained from sources that we believe to be reliable, but we do not guarantee its accuracy or completeness. It is not intended to provide advice or recommendation. Views are subject to change.