Electricity Markets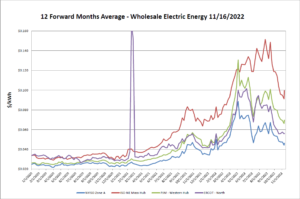 Slight market movement back up this week. No dramatic volatility in the markets this week as a result of the colder weather.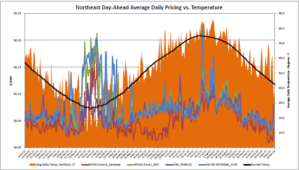 Cold temperatures have returned. BIG swing down, and prices have responded as gas demand has increased.
Natural Gas Markets

Short term rebound back up because of the cold snap. Outward years look good still. Winter futures still high and volatile.
Futures as of 11/16/2022 versus previous week:
| | | |
| --- | --- | --- |
|   | Current |   |
| Dec-22 | $6.288 | $0.284 |
| Jan-23 | $6.672 | $0.329 |
| Feb-23 | $6.424 | $0.324 |
| Mar-23 | $5.625 | $0.207 |
| Apr-23 | $4.890 | $0.124 |
| May-23 | $4.781 | $0.047 |
Natural Gas Inventory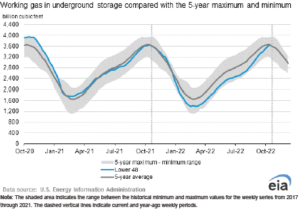 Working gas in storage was 3,644 BCF as of Friday, November 11th. According to EIA estimates this represents a net increase of 64 Bcf from the previous week.

The Baker Hughes exploration gas count increased by 2 rigs for a total of 157 this week. There are 102 additional rigs in operation than at this time one year ago.
Weather Update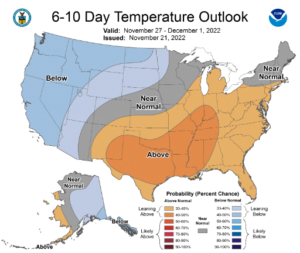 Temperatures will be above average across the Southeast and Midwest, and below average across the West Coast.
Hurricane Watch:  Click here to view the National Hurricane Center site.
Equatorial Pacific Outlook: Click here to view La Nina and El Nino status.  
News : Freeport LNG not expected to load cargoes in November and possibly December: sources- Freeport LNG was not expected to load any cargoes in November and possibly December, people familiar with the US liquefaction facility's plans said Nov. 14.
The further delay of exports from the three-train, 15 million mt/year capacity terminal in Texas , which has been offline since a June explosion and fire,could be bullish for prices, as the market had been expecting some incremental supply to return this month.
News : ISO New England expects to meet winter power demand, extreme cold could stress system–ISO New England expects to have adequate power generation resources this winter to meet anticipated power demand under normal weatherconditions of 20,009 MW and demand of 20,695 MW under extremely cold conditions, the grid operator said Nov. 14.

If you would like to receive the Energy Market Update to your inbox weekly, please click here to submit your name and email address.   Disclaimer: This information is provided for the use of our customers and potential customers. Power Management Company assumes no responsibility or liability for the accuracy or completeness of pricing or information in this document. Historical data was obtained from sources that we believe to be reliable, but we do not guarantee its accuracy or completeness. It is not intended to provide advice or recommendation. Views are subject to change.