Electricity Markets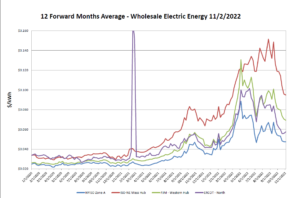 Continued drop off in pricing, with some leveling off. Almost back to pre-February levels.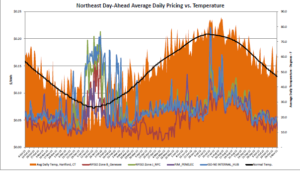 Pricing remains stable, despite recent warmth.
Natural Gas Markets

Increase in winter rates are less harsh. Consolidation into the out years continues.
Futures as of 11/2/2022 versus previous week:
| | | |
| --- | --- | --- |
|   | Current |   |
| Nov-22 | $6.054 | $0.555 |
| Dec-22 | $6.399 | $0.429 |
| Jan-23 | $6.188 | -$0.027 |
| Feb-23 | $5.599 | -$0.438 |
| Mar-23 | $4.759 | -$0.676 |
| Apr-23 | $4.699 | $0.029 |
Natural Gas Inventory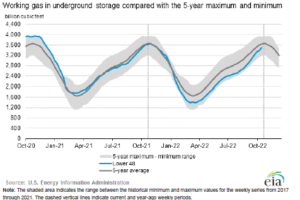 Working gas in storage was 3,501 BCF as of Friday, October 28th. According to EIA estimates this represents a net increase of 107 Bcf from the previous week.

The Baker Hughes exploration gas count decreased by 1 rig for a total of 155 this week. There are 100 additional rigs in operation than at this time one year ago.
Weather Update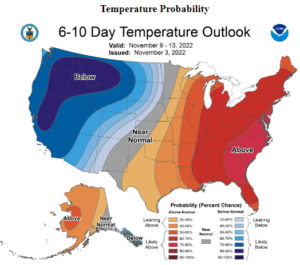 Continued above average temperatures across the East Coast. Temperatures well below normal across the west.
Hurricane Watch:  Click here to view the National Hurricane Center site.
Equatorial Pacific Outlook: Click here to view La Nina and El Nino status.  
Winter weather is coming: It will be warm, dry in South and East because of La Niña, NOAA says-
News : Appalachian gas prices falter amid incremental, yet crushing rise in production- Basis discounts at upstream natural gas hubs in Appalachia are trending at their lowest in five years this fall with record production and mild weather promising to keep the pressure on, well into November.  
News : US Northeast balmo gas prices tank amid forecast slow-start to heating season- Forecasts calling for mild weather across the US Northeast through mid-November are putting a damper on regional gas prices as traders prepare for an underwhelming start to the winter heating season.
If you would like to receive the Energy Market Update to your inbox weekly, please click here to submit your name and email address.   Disclaimer: This information is provided for the use of our customers and potential customers. Power Management Company assumes no responsibility or liability for the accuracy or completeness of pricing or information in this document. Historical data was obtained from sources that we believe to be reliable, but we do not guarantee its accuracy or completeness. It is not intended to provide advice or recommendation. Views are subject to change.