Company aims to make electric vehicle charging more convenient in Upstate NY.
October 26th, 2022, Rochester, NY – Quicklee's Convenience Stores, headquartered in Avon, NY has opened three level 3 DC Fast Charge, charging stations for electric vehicles, at their Batavia, Belmont, and Avon Travel Center locations. The charging stations were manufactured by Chargepoint, one of the largest Electric Vehicle (EV) charging and open charging network providers in the industry.
"As a community focused organization, we have to pay attention to and be prepared to help address the needs of our customers, and the communities we serve." Said Ken Perelli, Quicklee's VP and COO, adding "Electric vehicles are growing in demand, and our customers, as well as travelers passing through, need and want convenient places to stop and charge up."
To aid in the rollout of the charging stations, Quicklee's partnered with the Power Management Company of Victor, NY. Together they identified which locations would be ideal for the EV charging infrastructure. Power Management provided Quicklee's a turnkey solution on the project including design, installation, incentive coordination and commissioning services.
"We are proud to partner with Quicklee's on their venture to offer electric vehicle fueling across their portfolio of convenience stores and fueling stations." Stated Michael J. Hedges, Quicklee's Energy Advisor and VP of Sales at Power Management Company. "Quicklee's put forth considerable time, effort, and financial resources to start building out EV charging infrastructure for the benefit of the communities they are a part of."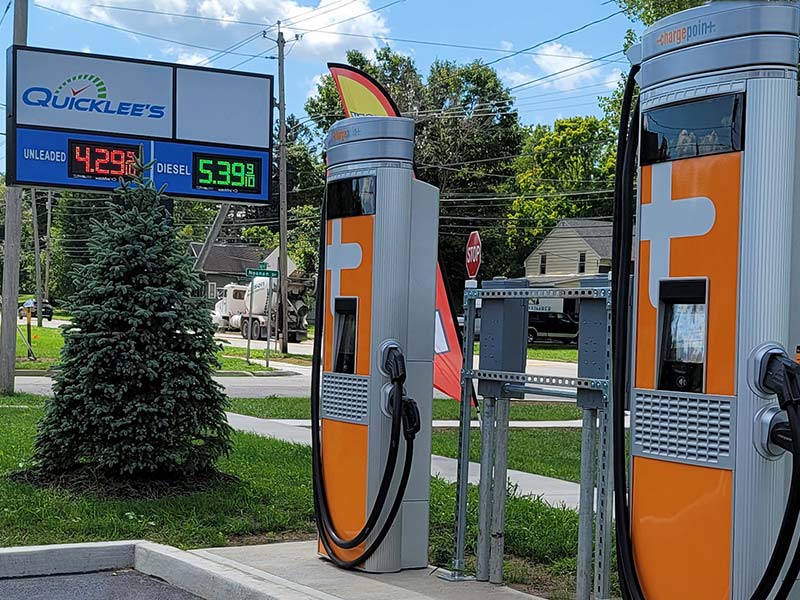 The new charging stations are part of a network of over 200,000 charging ports globally. The ChargePoint unites deployed can offer up to 125kW charging capacity, and a majority charge to vehicle within 20 to 30 minutes depending on the make and model of the electric vehicle. The chargers are app driven, making planning and payment easy for travelers.
"Range anxiety, or worry stemming from how long your charge will last, is a real concern for many EV owners." Said Hedges. "Power Management commends Quicklee's in their dedication to serve the under-developed EV infrastructure market and doing their part to improve convenience for EV drivers on main throughfares in New York State." He continued.
"We are one of the first retail operators in the Upstate NY area to really start focusing on making charging easier for those traveling through." Added Perelli, continuing "By investing now we are helping to eliminate concerns, while also investing in the area we love by building out an EV infrastructure that will help benefit it for years to come."
Quicklee's leadership team continues to evaluate locations for new chargers, with possible destinations throughout their service territory from Buffalo to Syracuse. Tesla charging adapters will be available at locations with a charging station soon.
Through their partnership with Power Management, Quicklee's is evaluating the energy needs of electric power commercial fleets, and ways to integrate future faster charging technologies. For more information about Quicklee's and the chargers and these locations, please visit www.quicklees.com.
More About Quicklee's Relationship with Power Management Company
Quicklee's has partnered with Power Management Company for close to 3 years. During which time the team at Power Management has helped Quicklee's evaluate their energy usage, utilize solar energy farms, engage with utilities operators, partner with new vendors, explore funding options and capitalize on grant opportunities. Power Management's support has helped the Quicklee's leadership team create, invest in, and prepare the organization to overcome and achieve energy stability today and in the future.
More About Quicklee's Convenience Stores
Quicklee's Convenience Stores has been locally owned and operated since 1995. Under the leadership of Ken Perelli, Quicklee's remains focused on expansion and offering its brand of fast, clean, friendly service to every new community served. In 2017 Quicklee's expanded its business model to include travel center locations, and in 2018 they launched the Go Local program, which provided sales, marketing, and in store placement support to local food manufacturers.
More About Power Management Company
Power Management Company is an independent energy advisory firm that provides strategic energy consulting services for over 32,000 commercial, industrial, governmental, and institutional customers throughout the United States. Celebrating its 25th Year Anniversary in September 2022, Power Management provides energy risk managements solutions on behalf their clients' energy commodities and designs and implements turnkey LED lighting & controls upgrades, EV Charging installations, and renewable energy systems. With unparalleled market knowledge and expertise, Power Management takes energy management to the highest level through a comprehensive process that includes research, recommendation, and implementation.
###