Electricity Markets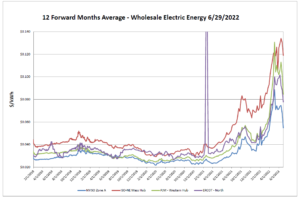 ISO-NE, NYISO and PJM are considerably down from last week. Which could be a result of the overall drop in the price of natural gas.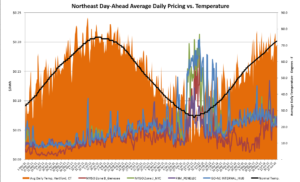 We have been seeing quick jumps and drops in pricing due to more moderate temperatures. However, getting into July and August we could start to see unseasonably warm temperatures which could drive the spikes in prices.
Natural Gas Markets

July 2022 NYMEX closed at $6.551. The balance of the remainder of 2022 has shifted down, including next winter.
Futures as of 6/29/2022 versus previous week:
| | | |
| --- | --- | --- |
|   | Current |   |
| Aug-22 | $6.498 | $-0.374 |
| Sep-22 | $6.493 | $-0.342 |
| Oct-22 | $6.519 | $-0.307 |
| Nov-22 | $6.614 | $-0.291 |
| Dec-22 | $6.735 | $-0.284 |
| Jan-23 | $6.83 | $-0.122 |
Natural Gas Inventory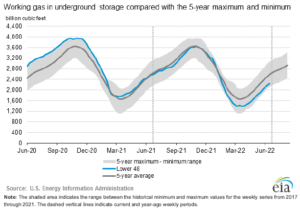 Working gas in storage was 2,251 Bcf as of Friday, June 24, 2022. According to EIA estimates this represents a net increase of 82 Bcf from the previous week.

The Baker Hughes exploration gas count came in at 153 this week, which is up two from last week. There are 98 more rigs in service compared to this time last year.
Weather Update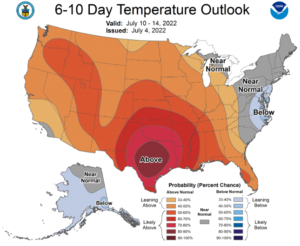 The Southern portion of the country will see seasonably warmer than normal temperatures where the Northeastern corner of the country will see more normal temperatures.
National Weather Service Updates (NOAA)
Hurricane Watch: Click here to view the National Hurricane Center site.
Equatorial Pacific Outlook: Click here to view La Nina and El Nino status.
Patterson-UTI eyes drilling step-up in 2023, after projected slowepace in H2 2022: CEO
 The US oil and gas drilling activity pace is likely to step up in 2023, after a slower tempo in the back half of 2022 from a fast pace in the first sixof the year, the top executive of land driller Patterson-UTI said June 23.
Investment needed in LNG sector to respond to Russian energy crisisG7
More LNG sector investment is needed to respond to the current energy crisis and to aid efforts to phase out Russian gas dependency, G7 leadeagreed.
If you would like to receive the Energy Market Update to your inbox weekly, please click here to submit your name and email address.
Disclaimer: This information is provided for the use of our customers and potential customers. Power Management Company assumes no responsibility or liability for the accuracy or completeness of pricing or information in this document. Historical data was obtained from sources that we believe to be reliable, but we do not guarantee its accuracy or completeness. It is not intended to provide advice or reco