Electricity Markets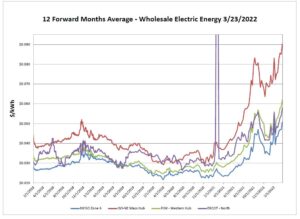 All markets saw another move up in forward electric rates. The continued tensions with Russia and Ukraine, along with increased natural gas rates are pushing electric prices higher each week.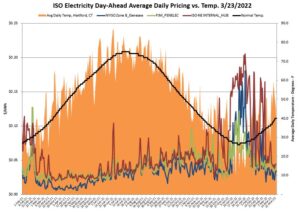 Warmer than normal weather led to a decrease in daily volatility in electric rates.
Natural Gas Markets

NYMEX saw a jump back up, now with 2022 trading above the $5.00 mark.
Futures as of 3/23/2022 versus previous week:
| | | |
| --- | --- | --- |
| Apr-22 | $5.223 | +$0.484 |
| May-22 | $5.274 | +$0.490 |
| Jun-22 | $5.316 | +$0.487 |
| Jul-22 | $5.366 | +$0.486 |
| Aug-22 | $5.371 | +$0.483 |
| Sep-22 | $5.350 | +$0.480 |
Natural Gas Inventory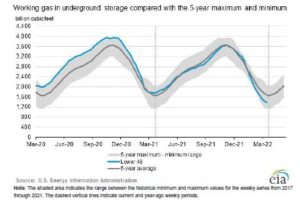 Working gas in storage was 1,389 Bcf as of Friday, March 18, 2022. According to EIA estimates this represents a net decrease of 51 Bcf from the previous week.

The Baker Hughes exploration gas count came in at 137 this week, which is unchanged since last week. There are 45 more rigs in service compared to this time last year.
On Monday, March 21, ISO New England filed the results of the sixteenth Forward Capacity Auction (FCA 16) with the Federal Energy Regulatory Commission (FERC). Held on February 7, the auction secured capacity commitments of 32,810 megawatts (MW) to be available in 2025-2026.
If you would like to receive the Energy Market Update to your inbox weekly, please click here to submit your name and email address.
Disclaimer: This information is provided for the use of our customers and potential customers. Power Management Company assumes no responsibility or liability for the accuracy or completeness of pricing or information in this document. Historical data was obtained from sources that we believe to be reliable, but we do not guarantee its accuracy or completeness. It is not intended to provide advice or recommendation. Views are subject to change.