Electricity Markets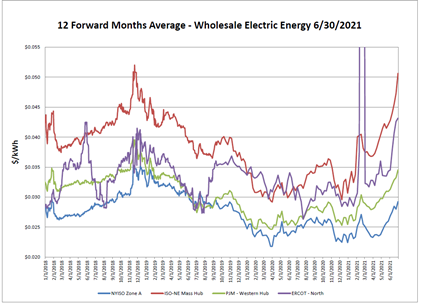 The heat wave caused an increase in demand, which led to a run up in forward electric rates across all markets.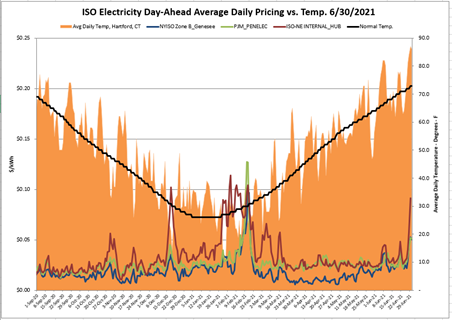 An extended warm spell caused a lot of volatility in the daily electric markets.
Natural Gas Markets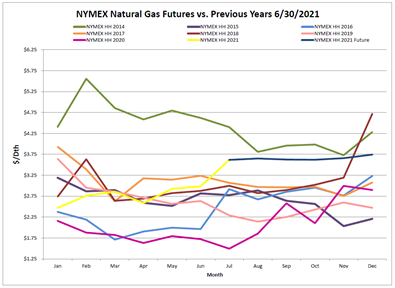 The NYMEX remains elevated throughout the rest of 2021 and is closing in on 2014 pricing.
.
Futures as of 6/30/2021 versus previous week:
| | | |
| --- | --- | --- |
| Aug-21 | $3.650 | $0.298 |
| Sep-21 | $3.624 | $0.291 |
| Oct-21 | $3.619 | $0.276 |
| Nov-21 | $3.658 | $0.264 |
| Dec-21 | $3.743 | $0.248 |
| Jan-22 | $3.807 | $0.169 |
Natural Gas Inventory

As of Friday, June 25, 2021 working gas in storage was 2,558 Bcf. According to EIA estimates this represents a net increase of 76 Bcf from the previous week. This is the first time in weeks the injection has been higher than both last year and the 5 year average.

The Baker Hughes exploration gas count is up 1 from the previous week for a total of 98 rigs. This is 23 more rigs than the 75 in operation at this time one year ago.
Weather Update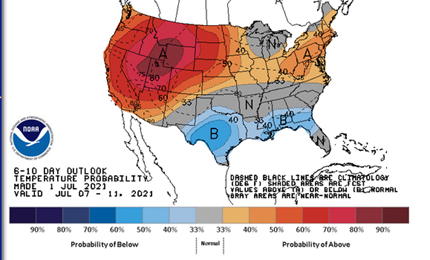 Extreme heat will continue for much of the west coast while the rest of the CONUS will see average to below average temperatures.
National Weather Service Updates (NOAA)
Hurricane Watch: Hurricane Elsa
Click here to view the National Hurricane Center site.
Equatorial Pacific Outlook:
Click here to view La Nina and El Nino status.
Energy News
Biden, senators reach deal containing tens of billions for energy infrastructure. President Joe Biden and a bipartisan group of 10 U.S. senators reached an agreement on an infrastructure package that includes tens of billions in energy infrastructure funding.
Disclaimer: This information is provided for the use of our customers and potential customers. Power Management Company assumes no responsibility or liability for the accuracy or completeness of pricing or information in this document. Historical data was obtained from sources that we believe to be reliable, but we do not guarantee its accuracy or completeness. It is not intended to provide advice or recommendation. Views are subject to change without notice.