Electricity Markets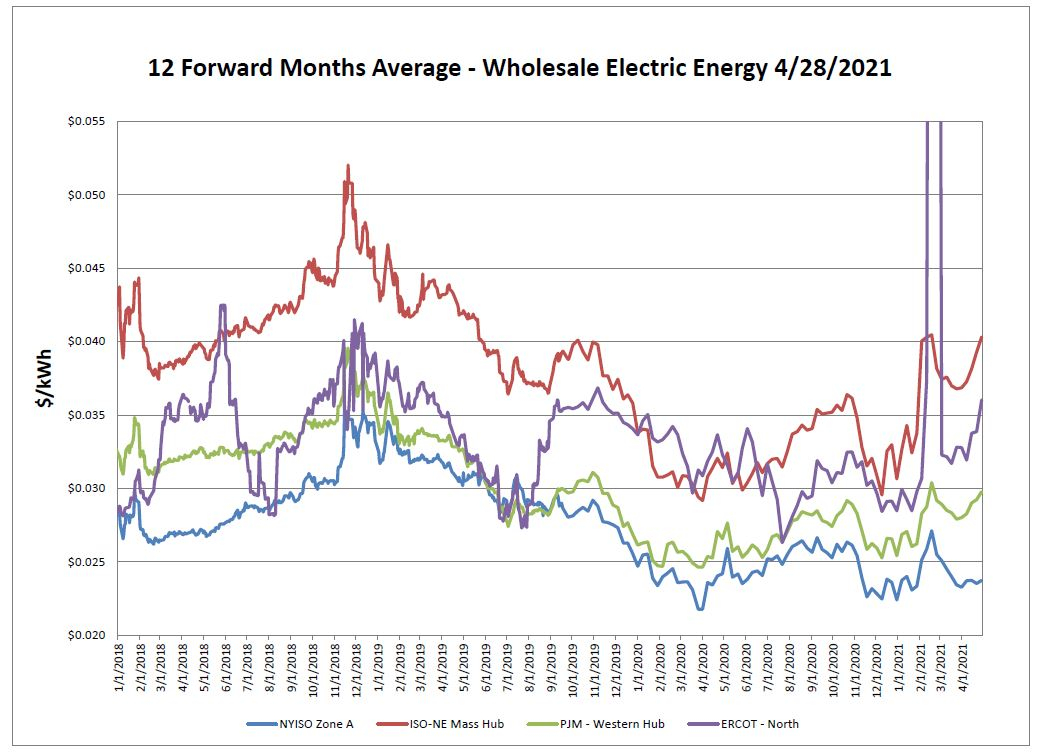 NYISO continues to be flat over the week versus all other markets saw an uptick in forward electric pricing. The increase is caused by higher natural gas prices being used for electric generation.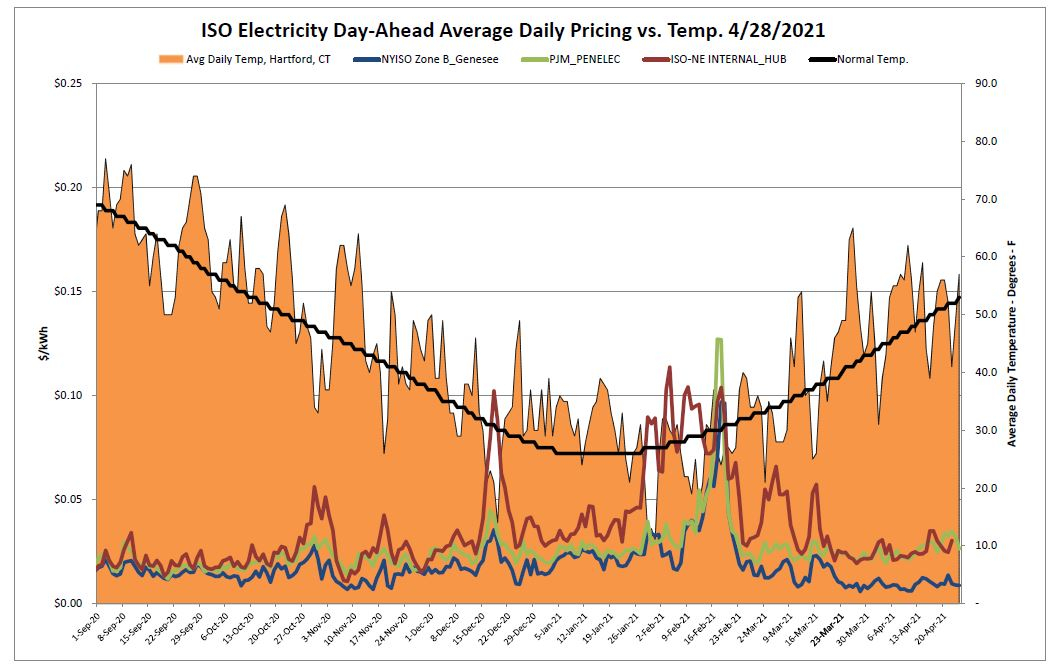 Cooler temperatures did bring on some volatility this week.
Natural Gas Markets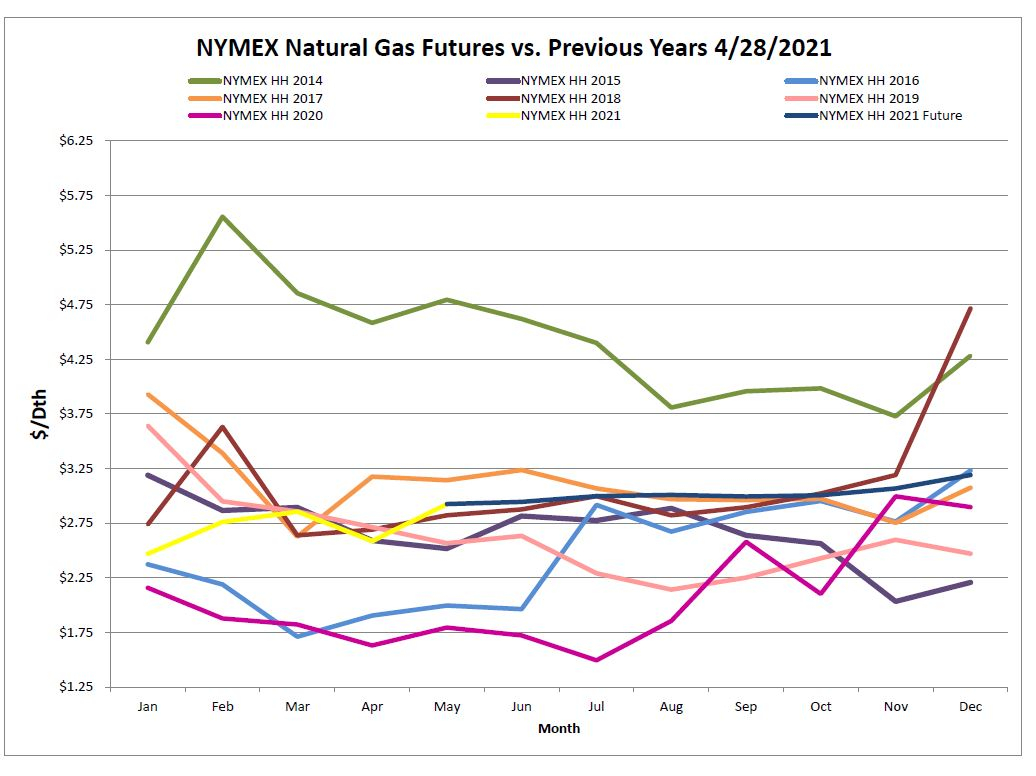 May NYMEX closed at $2.925 which is the highest close we have had all of 2021.
.
Futures as of 4/28/2021 versus previous week:
| | | |
| --- | --- | --- |
| Jun-21 | $2.945 | -$0.169 |
| Jul-21 | $2.997 | -$0.151 |
| Aug-21 | $3.009 | -$0.133 |
| Sep-21 | $2.993 | -$0.130 |
| Oct-21 | $3.005 | -$0.124 |
| Nov-21 |   $3.067 | -$0.101 |
Natural Gas Inventory

As of Friday, April 23, 2021 working gas in storage was 1,898 Bcf. According to EIA estimates this represents a net increase of 15 Bcf from the previous week. We are now back below the 5-year average.

The Baker Hughes exploration gas count is down 2 from the previous week for a total of 96 rigs. This is 15 more rigs than the 81 in operation at this time one year ago.
Weather Update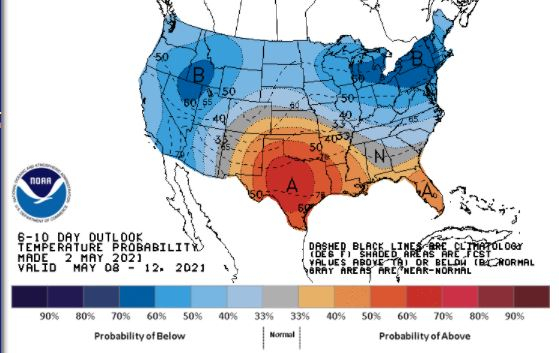 Temperatures are expected to be cooler than normal throughout the contiguous US with warmer than normal temperatures expected over South Central region.
National Weather Service Updates (NOAA)
Hurricane Watch: No Hurricanes
Click here to view the National Hurricane Center site.
Equatorial Pacific Outlook:
Click here to view La Nina and El Nino status.
Energy News
O'Mara blasts new proposed gas tax: Joins opposition to legislation that could raise state gas tax by 55 cents
New York's out-of-control Democrat supermajorities just enacted a state budget raising taxes by nearly five billion dollars and here we go again. It will be an unending search for more tax dollars to afford more spending and every taxpayer will pay the price.
US hikes climate targets; cites international, market momentum in face of policy divide
The US committed April 22 to reducing economywide greenhouse gas emissions by 50%-52% from 2005 levels by 2030, as some of the world's top emitters also reaffirmed or raised their ambitions to cut emissions at the start of a two-day climate summit hosted by US President Joe Biden.
If you would like to receive the Energy Market Update to your inbox weekly, please click here to submit your name and email address.
Disclaimer: This information is provided for the use of our customers and potential customers. Power Management Company assumes no responsibility or liability for the accuracy or completeness of pricing or information in this document. Historical data was obtained from sources that we believe to be reliable, but we do not guarantee its accuracy or completeness. It is not intended to provide advice or recommendation. Views are subject to change without notice.