Electricity Markets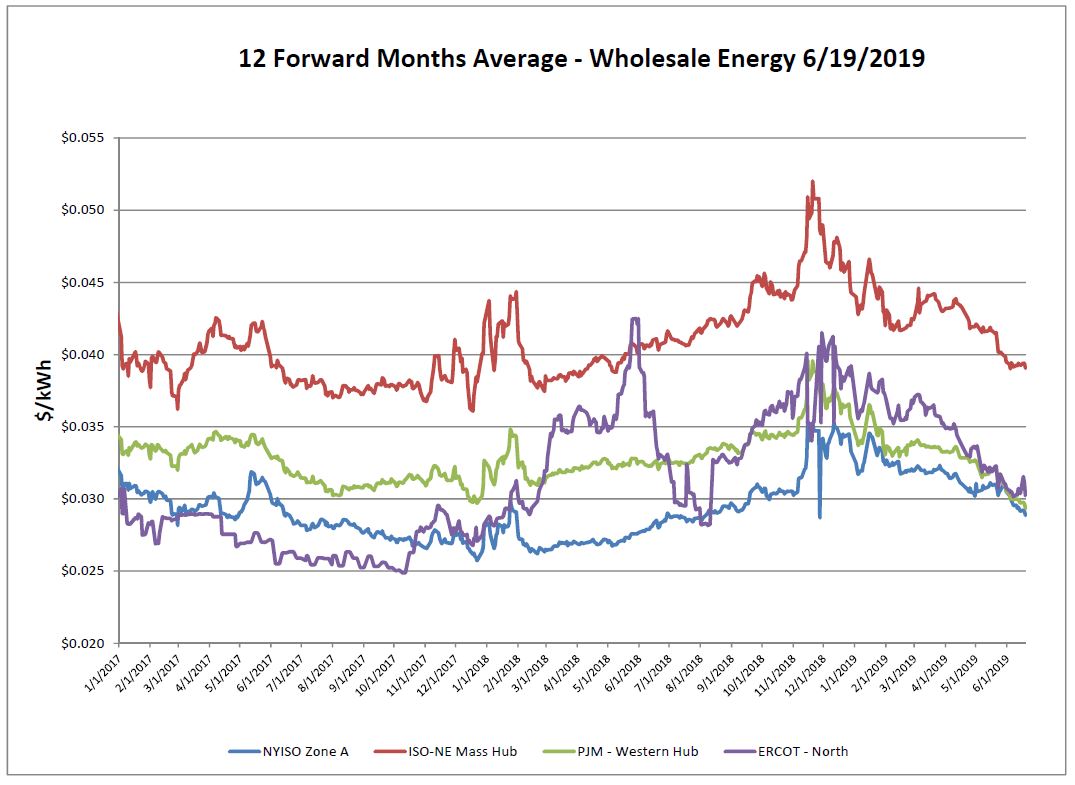 The overall downward trend on the electric market continued although it slowed a bit. ISO-NE was mostly flat over the report week with the slight drop at the end while. NYISO and PJM were both moving downward and signaling a strong time in both markets to lock in prices. As of April 1, CES, RECs and ZECs increased in NY and will continues to steadily grow as aggressive renewable targets remain a hot topic in the state. With the higher capacity prices now in play for NY, prices remain competitive.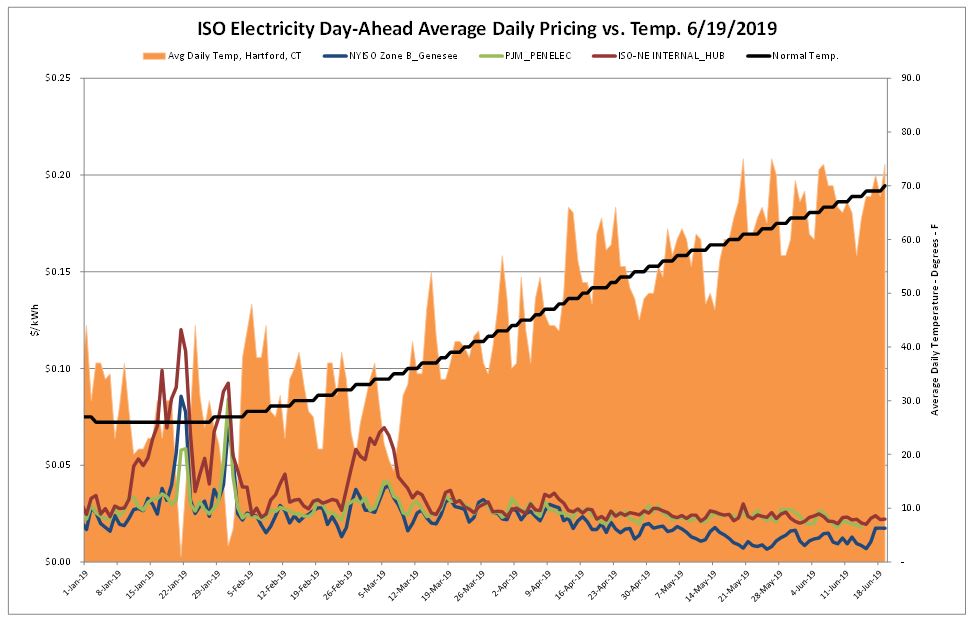 As we move almost through the end of June, still no weather-related demand to report. Last year at this time temperatures were consistently in the 80's. As normal weather trends below normal, the day-ahead market remains very quiet still.
Natural Gas Markets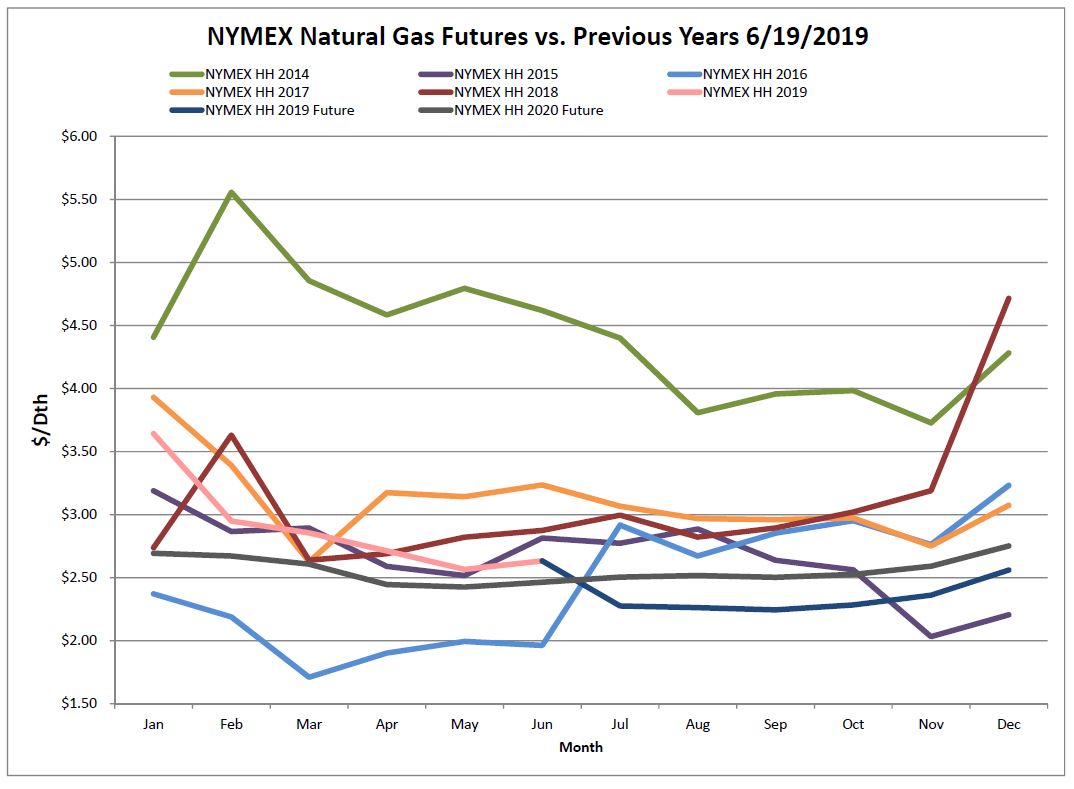 *Please note this chart has been updated with the forward price for 2020 added.
The NYMEX 12-month strip was down $0.10 on the week. The 2020 calendar strip closed at its lowest point ever, as it lost two and a half cents to move under the $2.60 mark. So far this summer, demand for natural gas has yet to see a spike, due to extremely mild temperatures mainly in the Northeast and Texas, which are major demand centers in the U.S. for natural gas. With normal weather expected for most of the country through the first week of July, demand is forecast to be relatively flat for the next two weeks.
Six-Month Natural Gas Futures
Futures as of 6/19/2019 versus previous week:
| | | |
| --- | --- | --- |
| Jul-19 | $2.276 | -$0.110 |
| Aug-19 | $2.263 | -$0.118 |
| Sep-19 | $2.245 | -$0.120 |
| Oct-19 | $2.284 | -$0.122 |
| Nov-19 | $2.362 | -$0.119 |
| Dec-19 | $2.561 | -$0.112 |
Natural Gas Inventory

The EIA report a net injection of 115 Bcf. Working gas in storage was 2,203 Bcf as of Friday, June 14, 2019. Market estimates ranged from 96 to 115 Bcf, with a consensus at 104 Bcf. As ground continues to be made up in relation to the deficit, this is being reflected in forward gas prices.
The Baker Hughes exploration gas rig count decreased 4 rigs from last week for a total of 177 rigs. This is 11 less rigs than were in operation at this time one year ago when there were 188 rigs.
Weather Update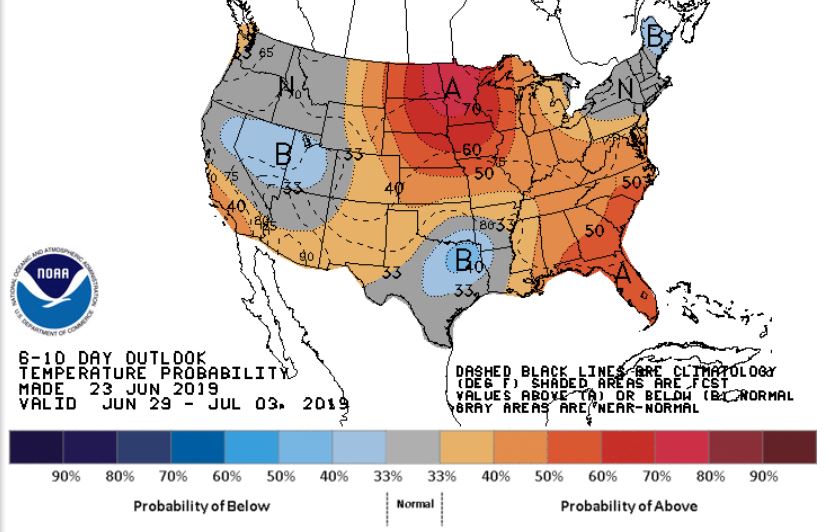 The Northeast, Texas and majority of the West coast are expected to see normal temperatures through the start of July. The Great Plains and sweeping down into Florida is anticipated to see above normal weather for the same time period.
National Weather Service Updates (NOAA)
Hurricane Watch- No Hurricane Activity
Click here to view the National Hurricane Center site.
Equatorial Pacific Outlook:
Click here to view La Nina and El Nino status.
Energy News
New York to pass climate change law called nation's most aggressive
ALBANY – New York will set out to eliminate its net emissions by 2050 as part of its effort to combat climate change, according to an agreement struck by Gov. Andrew Cuomo and legislative leaders this week.  
If you would like to receive the Energy Market Update to your inbox weekly, please click here to submit your name and email address.  
Disclaimer: This information is provided for the use of our customers and potential customers. Power Management Company assumes no responsibility or liability for the accuracy or completeness of pricing or information in this document. Historical data was obtained from sources that we believe to be reliable, but we do not guarantee its accuracy or completeness. It is not intended to provide advice or recommendation. Views are subject to change without notice.