Electric Vehicle (EV) Charging Station Incentive Program
*NY Clients only
In an effort to make New York State's environment cleaner, there are a number of significant incentives currently available for public and private organizations that install Level 2 EV charging stations. The stations can be placed in public parking facilities, workplaces, and multifamily apartment buildings. The programs aim is to accelerate the growth of the electric vehicle market, partially through financial support for the installation of charging stations across New York.
 1. Charge Ready NY
• Recipients will receive $4,000 per charging port
• EV Charging Stations must be chosen from NYSERDA's "Qualified Charging Equipment and Networks" list
• There is a minimum of (2) charging ports per site and a maximum of (20)
• Pre-approval is required (which Power Management will assist with)  
2. NYS Tax Credit
• New York State provides an income tax credit of up to $5,000 for the purchase and installation of an electric vehicle charging station
• The tax credit is available through the end of 2022
 Let Power Management provide a proposal to install EV charging stations at your facility!
If you are interested in participating in the program, please contact Joanne Sinopoli, Marketing Communications Manager or your PMC Account Manager at 585-249-1360 to allow us to help you evaluate this opportunity further.
Electricity Markets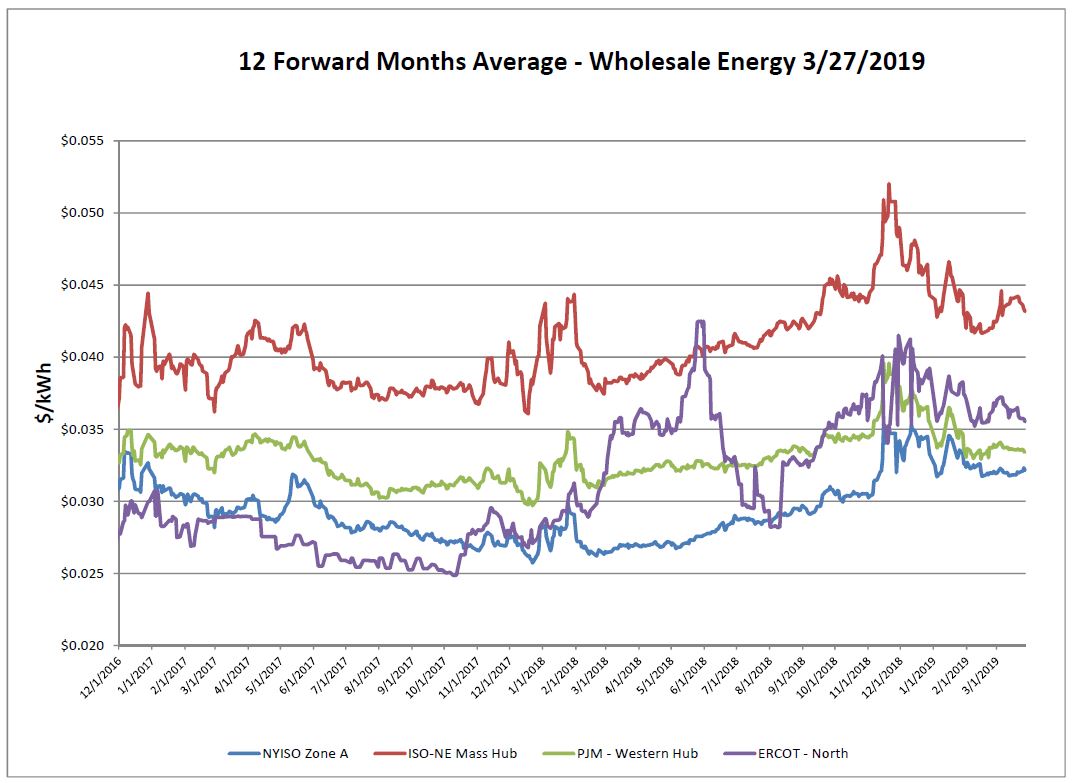 ISO-NE electric prices fell over the report week, reacting to a dip in natural gas prices and more seasonable weather. NYISO and PJM remained flat as we move into Spring.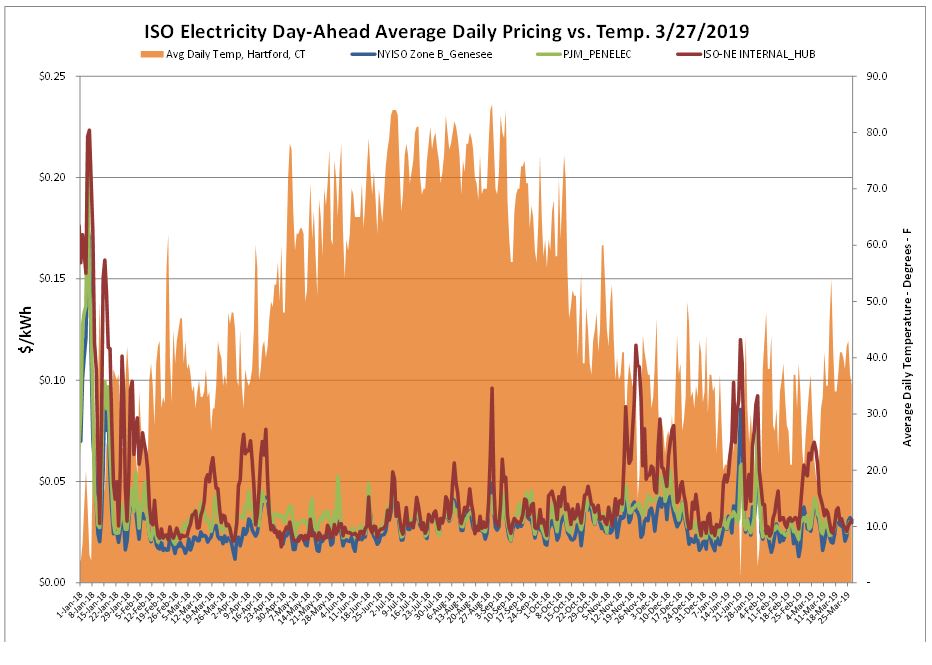 Quiet week on the day-ahead market. As loads start to moderate, this is what we would expect for this time of the year.
Natural Gas Markets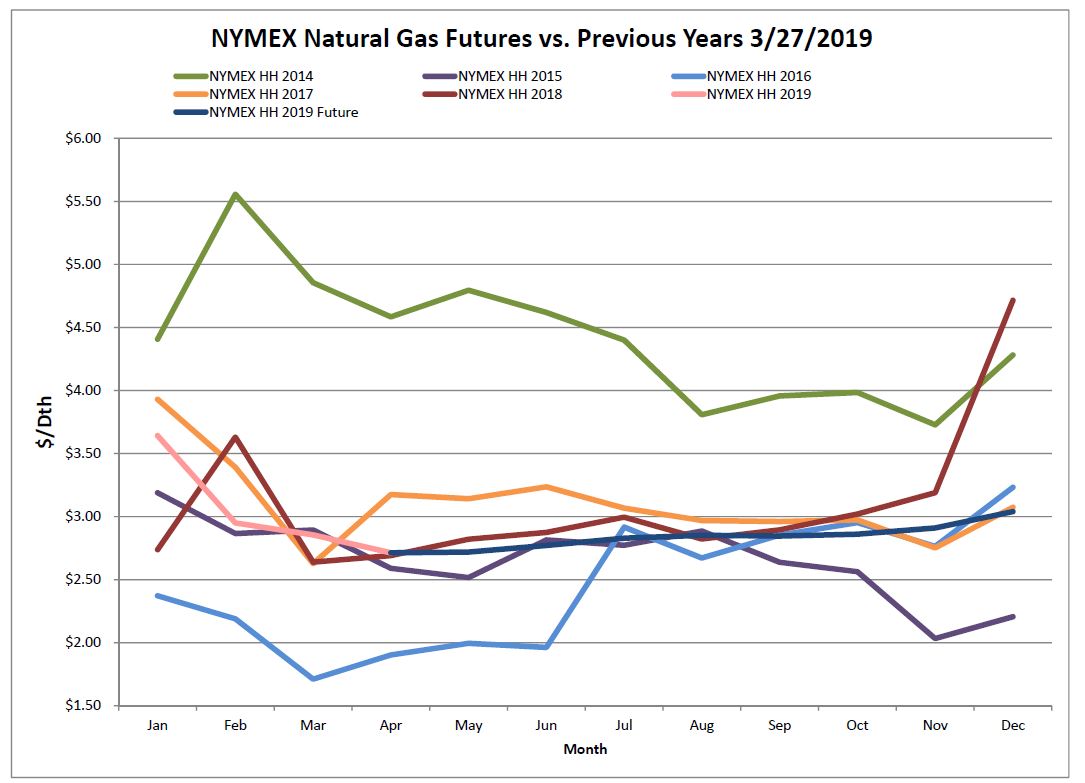 Natural gas prices dropped just before the close last Wednesday, settling the April '19 NYMEX at $2.713. Natural gas futures remain very attractive. Likely a good time to revisit contract proposals prior to summer when volatility may start to appear again.
Six-Month Natural Gas Futures
Futures as of 3/27/2019 versus previous week:
| | | |
| --- | --- | --- |
| May-19 | $2.719 | -$0.106 |
| Jun-19 | $2.771 | -$0.101 |
| Jul-19 | $2.829 | -$0.093 |
| Aug-19 | $2.852 | -$0.089 |
| Sep-19 | $2.846 | -$0.083 |
| Oct-19 | $2.861 | -$0.081 |
Natural Gas Inventory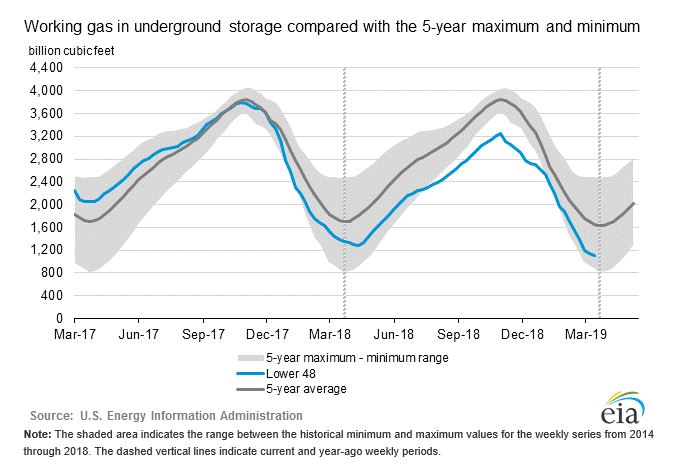 As of Friday, March 22, 2019 working gas in storage was 1,107 Bcf. According to EIA estimates this represents a net decrease of 36 Bcf from the previous week. The estimate for the end of season now stands at a 20% deficit to last year, and a 33% deficit to the five-year average. Next week we expect to see our first injection of the year.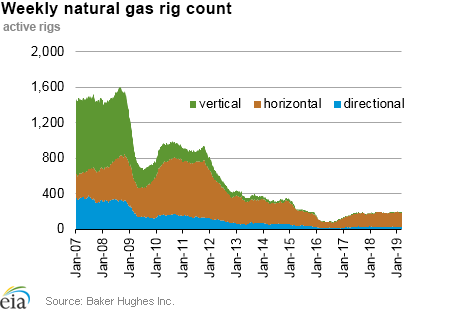 The Baker Hughes exploration gas rig count decreased by 2 rigs from last week for a total of 190 rigs. This is 4 more rigs than were in operation at this time one year ago when there were 194 rigs.
Weather Update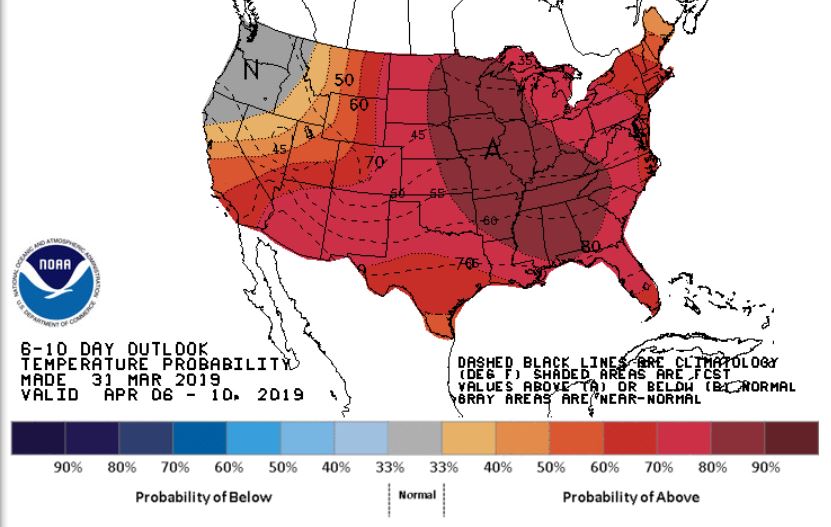 As we head into the first few weeks of April, the NOAA forecast expects a blanket of warmer than normal temperatures to cover the CONUS. Oregon and Washington may be the only exception to this vast warming pattern.
National Weather Service Updates (NOAA)
Hurricane Watch- No Hurricane Activity
Click here to view the National Hurricane Center site.
Equatorial Pacific Outlook:
Click here to view La Nina and El Nino status.
Energy News & Resources
Press Release: The Strong- ReCharge NY
The Strong, advised by Power Management Company, was recently awarded a new contract for low-cost power from the ReCharge NY program through the New York Power Authority!
Green energy failed the polar vortex test
The recent polar vortex of extremely cold weather this winter tested Green New Deal policies, and they failed miserably.
If you would like to receive the Energy Market Update to your inbox weekly, please click here to submit your name and email address.
Disclaimer: This information is provided for the use of our customers and potential customers. Power Management Company assumes no responsibility or liability for the accuracy or completeness of pricing or information in this document. Historical data was obtained from sources that we believe to be reliable, but we do not guarantee its accuracy or completeness. It is not intended to provide advice or recommendation. Views are subject to change without notice.