Electricity Market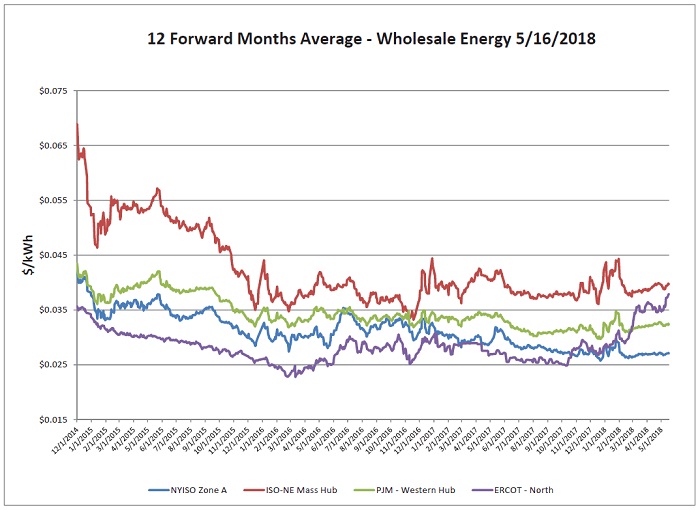 NYISO electric was quiet over the report week & PJM saw just a very slight increase. ISO-NE electric moved up a fair amount and ERCOT saw another big jump. Back in October prices were in the $0.025 range, now they are closing in at $0.036 -$0.037.
Bump up in day-ahead prices across the board related to warmer weather. PJM was hit harder as warmth in western and southern PA was greater. As load becomes high, additional generation causes prices to increase.
Natural Gas Markets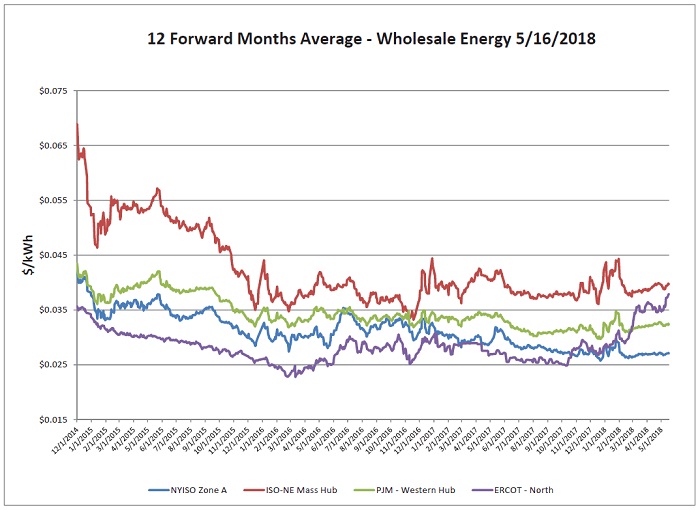 Forward natural gas curve shifted up, however still in the middle of the average/normal range over the past few years. The underlying NYMEX was up $0.07 over the week and the Algonquin Basis was also up $0.06 on the week; an overall $0.13 increase in the all in delivered cost of natural gas in New England. Natural gas deliveries from the Millennium pipeline, a key pipeline for bringing natural gas into New England fell during this report week as it began maintenance.
Six-Month Natural Gas Futures
Futures as of 5/16/18 versus previous week:
Jun-18  $2.815  +0.078
Jul-18   $2.837  +0.077
Aug-18  $2.85   +0.083
Sep-18  $2.832  +0.077
Oct-18   $2.837  +0.075
Nov-18   $2.877  +0.077
Natural Gas Inventory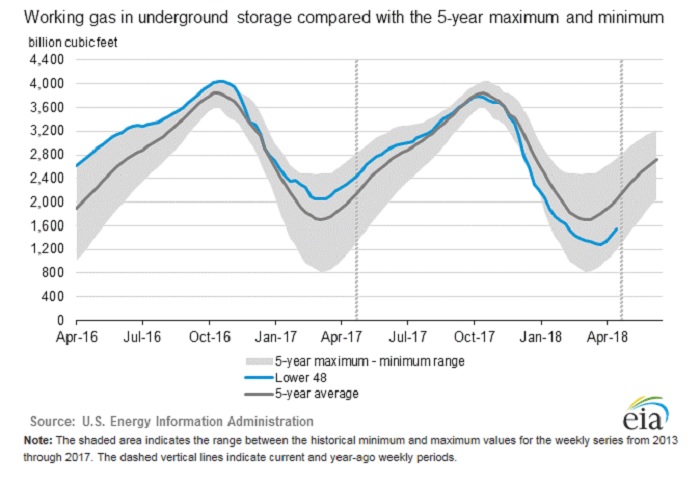 According to EIA estimates a net increase of 106 Bcf from the previous week was reported. Working gas in storage was 1,538 Bcf as of Friday, May 11, 2018.  Last year there was a withdrawal of 64 Bcf. And the 5-year average is 87. For the first time since 2015, net injections were above the 100 Bcf threshold in May.
NG Rig Count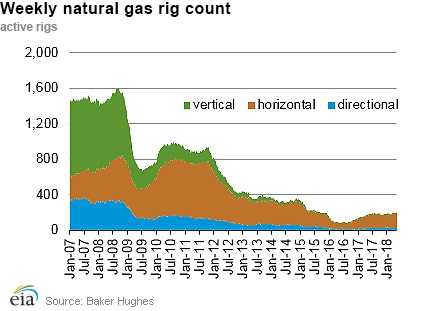 The Baker Hughes exploration gas rig count increased 1 rig from the previous week for a total of 200 rigs. The report total is 20 rigs more than in operation last year when there were 180 rigs.
Weather Update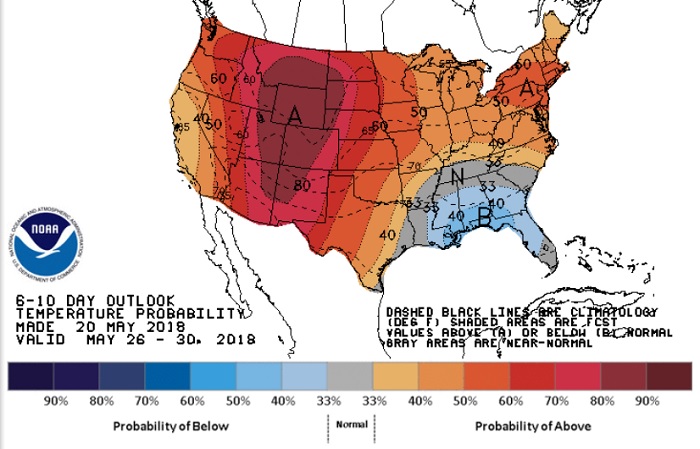 The prediction for warm weather for the remainder of May appears to still be in effect. The NOAA 6-10 day outlook indicates warmer-than-normal temperatures throughout much of the CONUS with the exception of Florida and a few other Southern states.
National Weather Service Updates (NOAA)
Hurricane Watch- No Activity:Click here to view the National Hurricane Center site.
Equatorial Pacific Outlook: Click here to view La Nina and El Nino status.
Energy News & Resources
ERCOT real-time power prices spike near $1,500/MWh on record demand
The Electric Reliability Council of Texas footprint saw real-time prices jump to four-digit territory Wednesday afternoon as power demand rose above record May peakload with above-normal temperatures.
Offshore Wind's Value Exceeds Its Construction Costs In New York And New England
Offshore wind may seem like a pricey option, but it's actually an extremely valuable investment.
Report Says More Nuclear Plants in Financial Trouble
A report from Bloomberg New Energy Finance (BNEF) says the financial struggles of U.S. nuclear power plants continue to increase, and it is likely more plants will be faced with early retirement.
If you would like to receive the Energy Market Update to your inbox weekly, please click here to submit your name and email address. 
Disclaimer: This information is provided for the use of our customers and potential customers. Power Management Company assumes no responsibility or liability for the accuracy or completeness of pricing or information in this document. Historical data was obtained from sources that we believe to be reliable, but we do not guarantee its accuracy or completeness. It is not intended to provide advice or recommendation. Views are subject to change without notice.