Electricity Market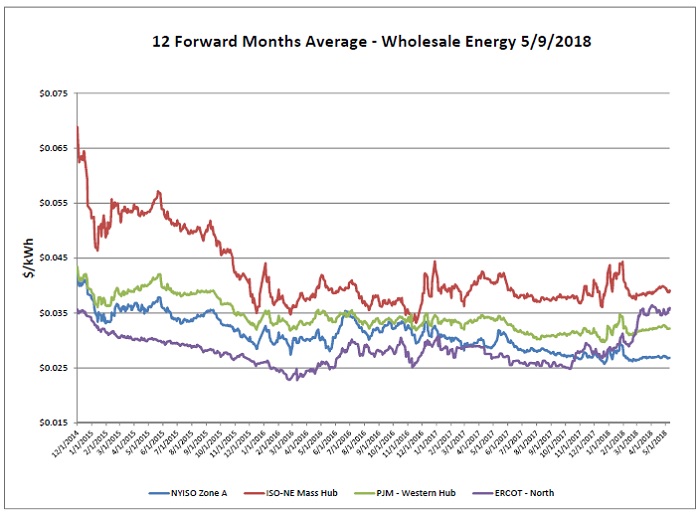 Not much change in the way of electric forward in NYISO and PJM. Just perhaps a slight uptick in NEISO and ERCOT. Texas may see some relief as the estimated peak summer electricity usage and maximum generation capacity has increased by a small amount due to three power plants that weren't expected to be operational now should be. See the article below regarding more information on this.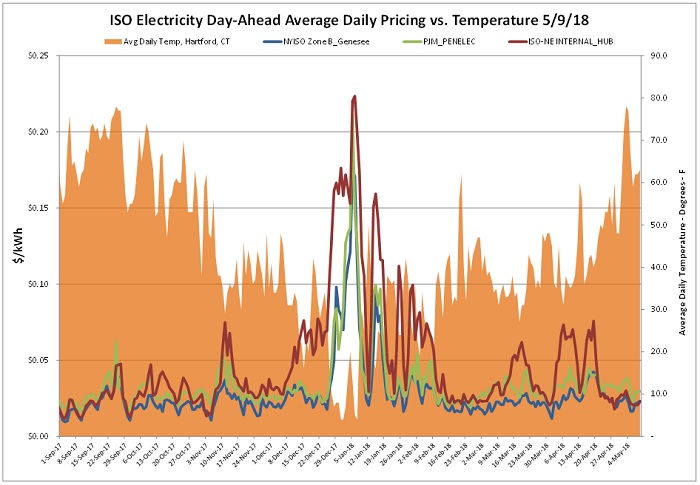 Temperatures over the report week were well above normal. As a result, day-ahead energy prices were very quiet. Again, generally New England seems to handle the summers well, winter is usually the issue. The article below discusses the optimism for sufficient power supply to meet peak demand this summer.
Natural Gas Markets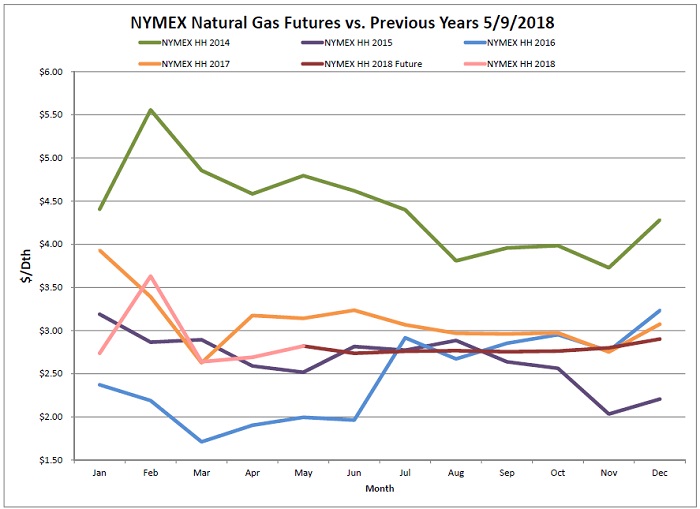 NYMEX natural gas futures feel slightly over the report week, nothing all that significant. However, the short-term energy outlook from the EIA report pointed out that crude oil was at $72/barrel, the highest since November 2014. This is impacting the trend of the overall Algonquin basis.
Six-Month Natural Gas Futures
Futures as of 5/9/18 versus previous week:
Jun-18   $2.737  -0.017
Jul-18    $2.760  -0.031
Aug-18   $2.767  -0.030
Sep-18   $2.755   -0.026
Oct-18   $2.762   -0.031
Nov-18   $2.800  -0.040
Natural Gas Inventory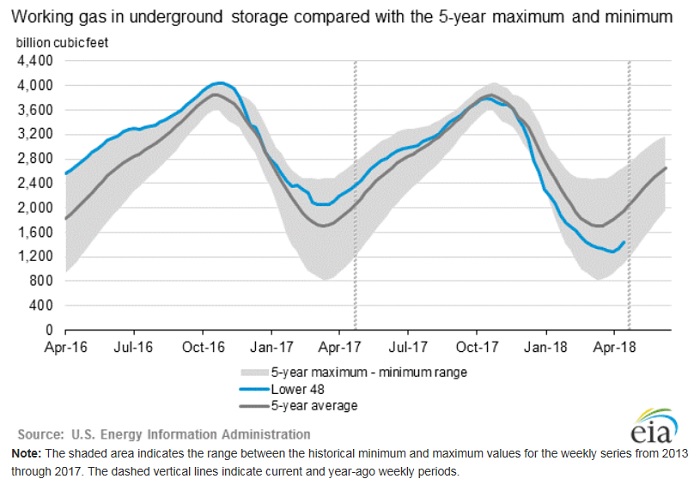 As of Friday, May 4, 2018, a net increase of 89 Bcf from the previous week was reported. According to EIA estimates working gas in storage was 1,432 Bcf. As of the beginning of May, U.S. production was about 9% above the level seen last year at this time, reaching another record high at 79.1 Bcf per day. At this level the hope is to continue healthy injections into storage to build natural gas inventories to a comfortable level before next winter. Preliminary projections however are that we will still be below the 5-year average by October/November.
NG Rig Count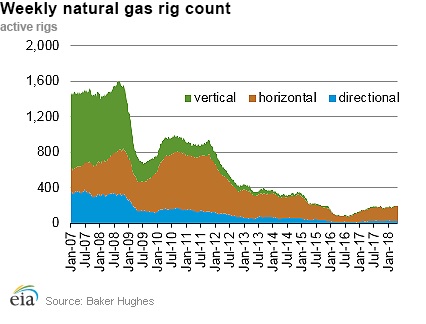 The Baker Hughes exploration gas rig count increased 3 rigs from the previous week for a total of 199 rigs. The report total is 27 rigs more than in operation last year when there were 172 rigs.
Weather Update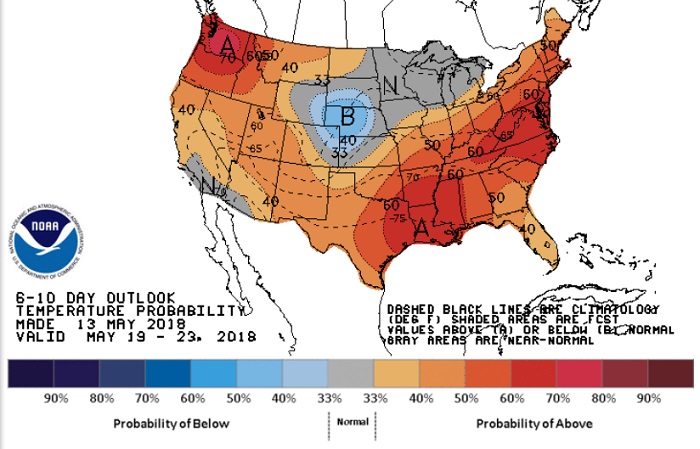 The NOAA 6-10 day outlook indicates warmer-than-normal temperatures to blanket nearly the entire United States. This trend is currently projected to last through the end of May.
National Weather Service Updates (NOAA)
Hurricane Watch- No Activity:Click here to view the National Hurricane Center site.
Equatorial Pacific Outlook: Click here to view La Nina and El Nino status.
Energy News & Resources
Sufficient power supplies to meet peak demand expected this summer, ISO New England says
ISO New England Inc. said recently that it expects to have adequate resources to meet peak consumer demand for electricity this summer under normal weather conditions.
Summer outlook for Texas electricity grid improves slightly
Record demand for electricity remains in the summer forecast for Texas, but the state's main power grid is slightly better positioned to handle it than what was described in a preliminary assessment earlier this year.
New York power grid expects demand to decline through 2028
New York's power grid operator on Thursday forecast that demand for power from the system will decline over the next decade due to efficiency programs and as more homes and businesses generate their own electricity on site.
If you would like to receive the Energy Market Update to your inbox weekly, please click here to submit your name and email address. 
Disclaimer: This information is provided for the use of our customers and potential customers. Power Management Company assumes no responsibility or liability for the accuracy or completeness of pricing or information in this document. Historical data was obtained from sources that we believe to be reliable, but we do not guarantee its accuracy or completeness. It is not intended to provide advice or recommendation. Views are subject to change without notice.